With the love for nature, many residents of Phu My Hung have "weaved" the green space for their house with small, beautiful gardens. Please join Phu My Hung journal to visit 2 green gardens of Phu My Hung residents!
Ms. To Ngoc Chau "small garden from great love"
As a flower lover, Ms. To Ngoc Chau (My Giang) uses almost the entire area of her yard to create a small flower garden. At the entrance to the house is a Hoa Muoi Gio (ten o'clock flower) row with blooming colors.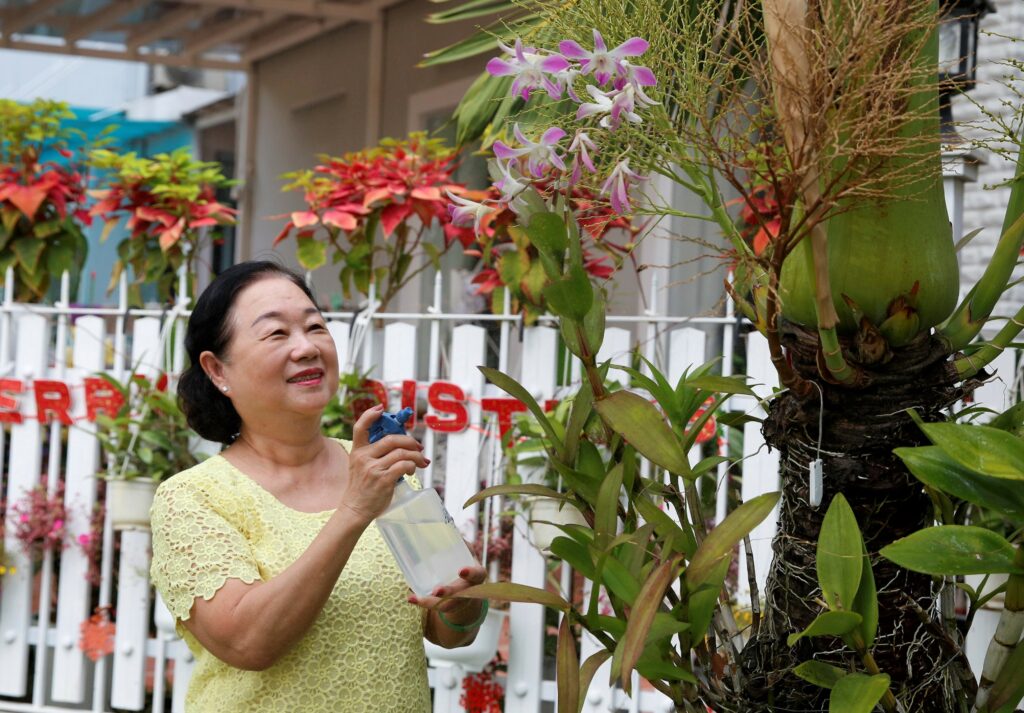 "The flower garden of Ms. Chau's house has dozens of varieties of flowers and ornamental plants so diverse that one who really loves and sticks to the garden can remember all the names, and the characteristics of each plant, each pot. "This is Hong Tra (red tea flower), that is camellia, banana. These two leaf pots are Van Loc (fortune) and Thinh Vuong (prosperity). And the vines that look like hanging upside down are Rau Rong (dragon beards), the other green-white leaf pots are Luoi Ho (tiger's tongue), this type is easy to grow and breed. This is a stone lotus, this is a cactus. Those are the pots of roses. And this is green apricot tree, purple when blooming, the flowers gradually turn green when fading. Vines on this fence are pea trees, beautiful purple flowers, which can be dried to make tea. And this is a quite special plant, it has two names, Kim Bai (gold card) or Nam Phuong. It looks normal, but when blooming it is very beautiful. The calyx is like a gold card, and on the two sides grow tiny, symmetrical flowers …," Ms. Chau excitedly shared, like a real guide for visitors to her garden.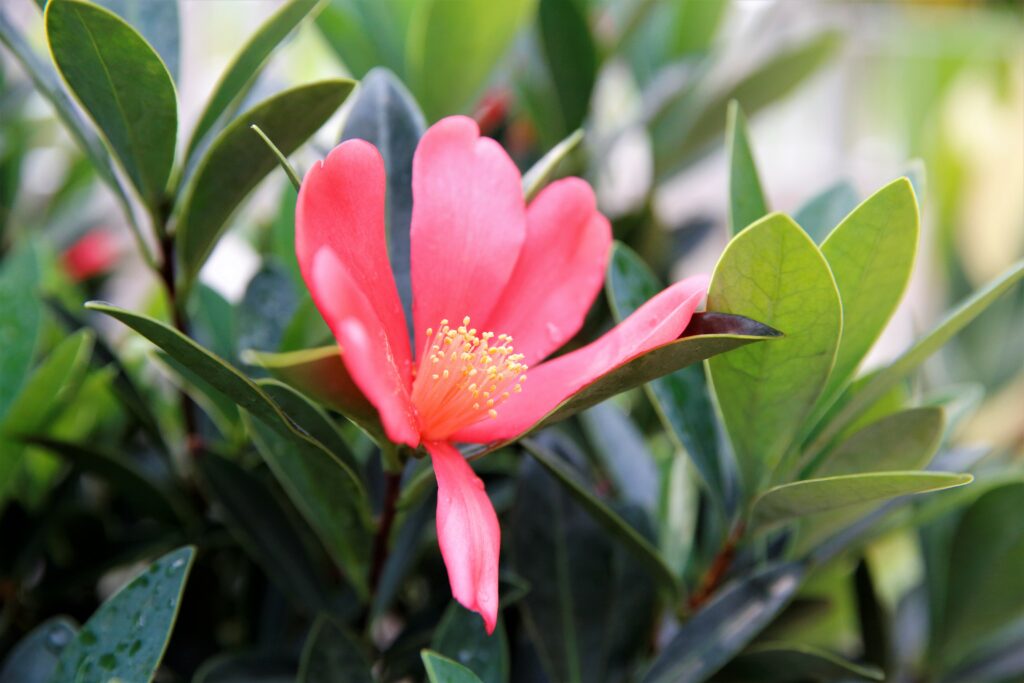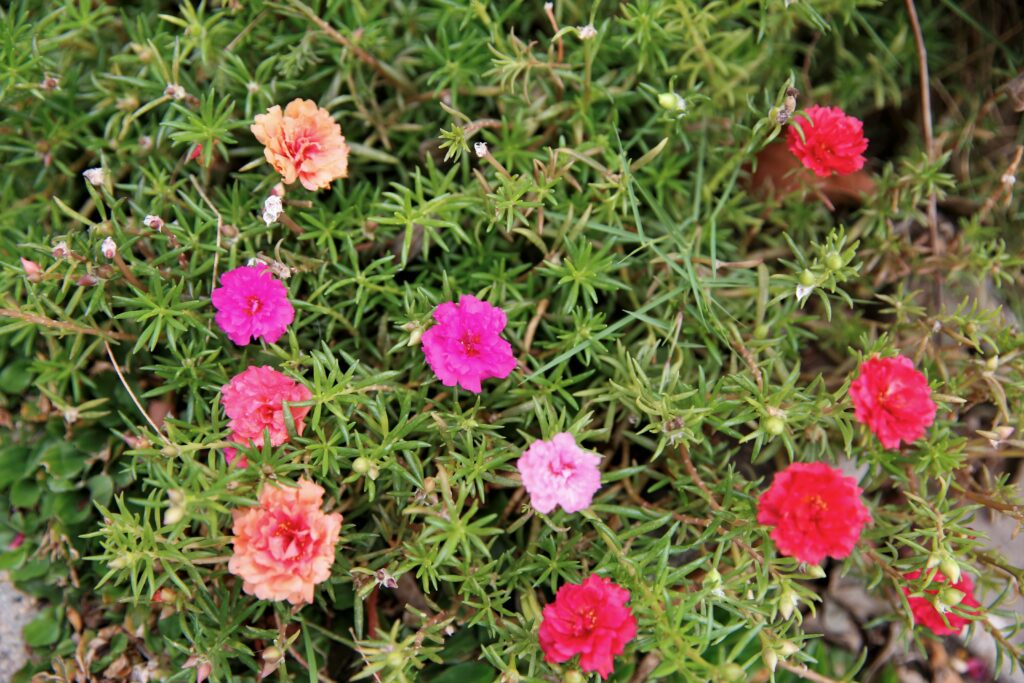 Present the most in the garden are types of orchids, because Ms. Chau loves orchids. Ho Diep (butterfly orchids), Dia Lan (earth orchids), Dendro orchids … are all present in her garden. She said, most of the orchid branches in the garden have been taken care of and recovered since they were offered. Knowing that Ms. Chau loves orchids, every birthday, holidays, relatives, friends often give her beautiful orchids. Usually when the orchid fades, many people will remove the root, but Ms. Chau will keep it to take care of. Ms. Chau also skillfully "attaches" the orchid roots on the tree trunks in the garden.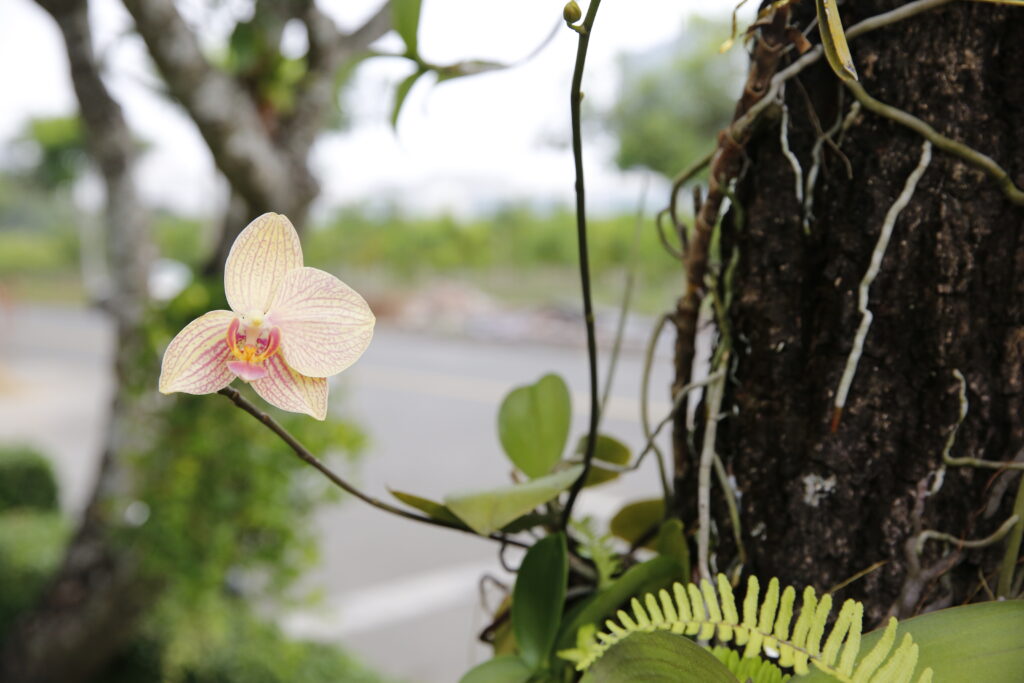 On the white fence around the house, Ms. Chau hangs marble Hoa Muoi Gio (ten-o'clock flower) pots with red and yellow petals, small, beautiful, gentle but prominent.
Ms. Chau said: "Last Lunar New Year, flowers bloomed all over the garden. Many people passing by, came in and asked for pictures, which was very happy." From the day she came to live in Phu My Hung, almost every day, Ms. Chau spends time taking care of her garden, sometimes watering the plants, fertilizing, cutting branches, cutting leaves… Occasionally, when the flowers bloom, she takes a few photos to share with her friends. Ms. Chau considers it a joy, a wonderful relaxing moment, because the small garden is nurtured by her great love for nature and plants.
Ms. Nguyen Thi Hong Hanh "Garden around the house"
The house of Ms. Nguyen Thi Hong Hanh (Hung Thai), is located on an area of about 370 square meters, of which the house area is about 160 square meters, most of the remaining area is for trees. So, on the whole, the house seems to be surrounded by a garden. Prominent are the garden with green grass and fruit trees, ornamental flowers such as grapefruit, jackfruit, star fruit, pomegranate, jade orchids, sala, pea flower, garlic orchid, canary, orchids, persimmon, Thien Dieu (sky birds) … Here, she put a swing, a small tea table for the whole family to relax, watch the trees, and watch the flowers whenever there is a chance.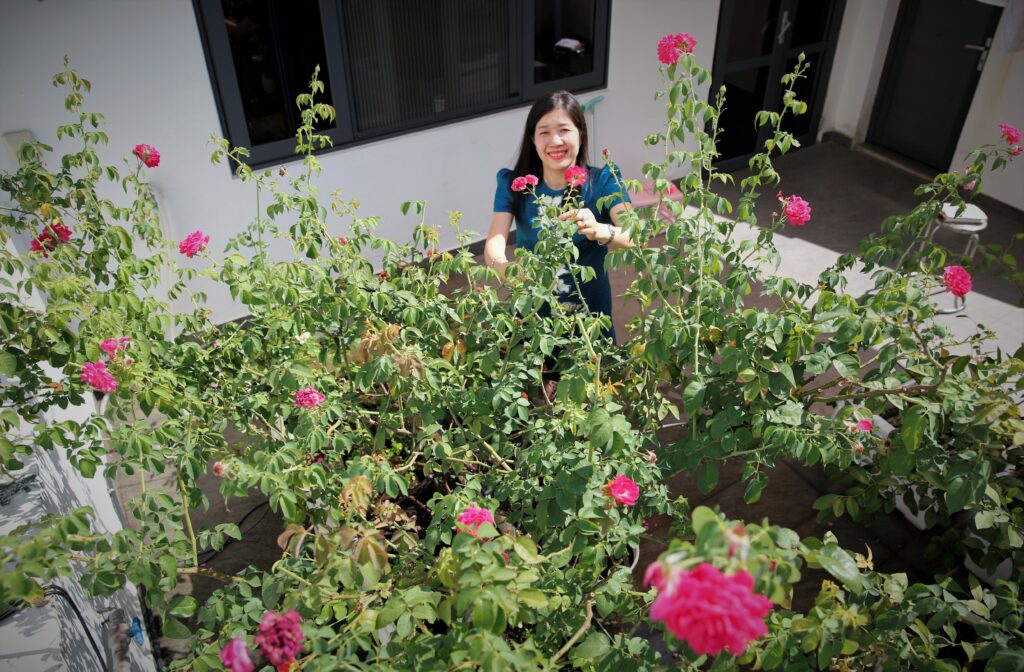 In the large garden, around the house, Ms. Hanh also planted many other trees such as banana, papaya, mango, lettuce, chili,… so from the house looking out, whether in the living room, bedroom, or kitchen, you can see the green trees.
Not stopping there, on the balconies, Ms. Hanh also created beautiful small gardens with rose pots, vine trellises, or colorful bougainvillea flowers.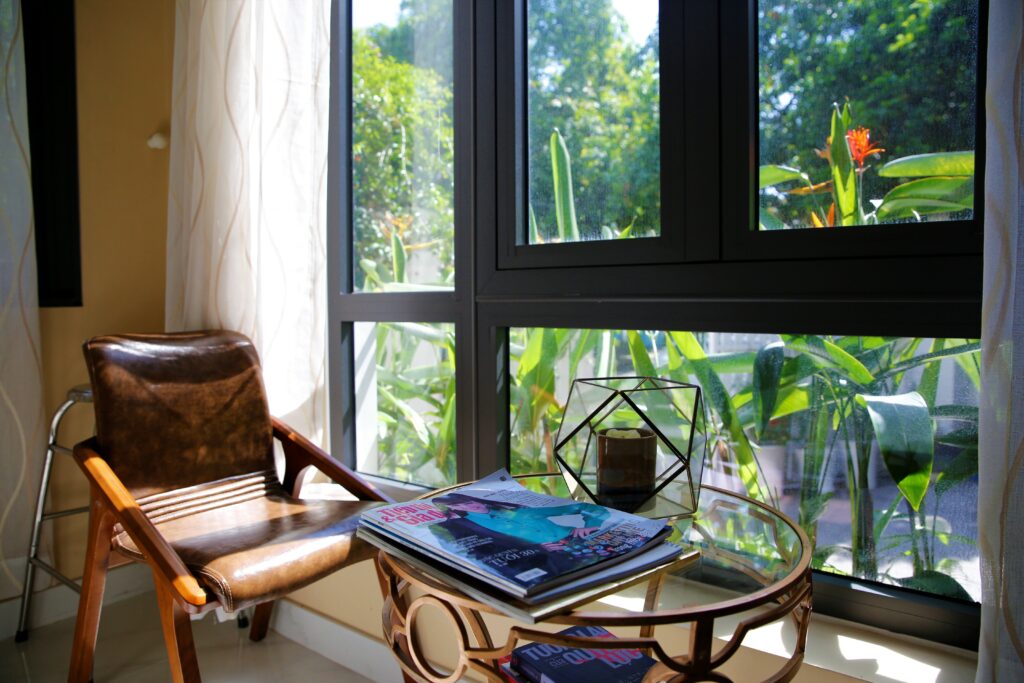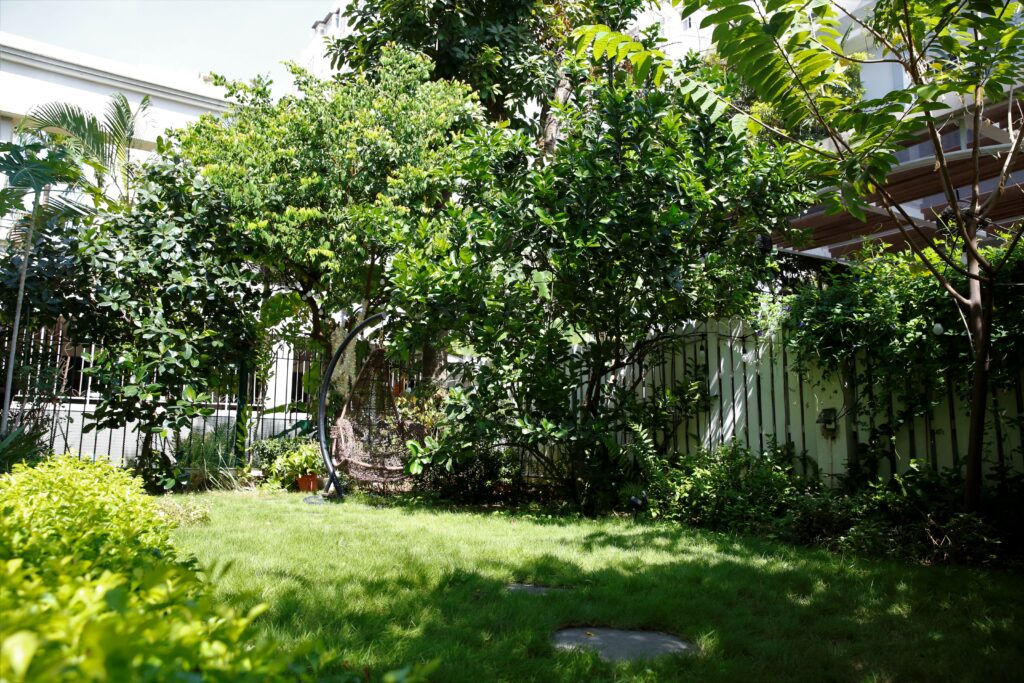 Ms. Hanh said: "The feeling of living among flowers, grass, and plants, where I can see green color everywhere makes me feel more comfortable and healthy. In the morning, before going to work, I often walk around the garden, watch the flowers, visit the fruits or feed the fish, that's how I recharge myself a little "green energy" to start a new day. Also from our garden, sometimes the whole family can enjoy a mango, jackfruit or a chili, a pot of vegetable soup, which is very interesting. Especially in the garden, there is also a custard- apple tree brought by my mother from my homeland Hai Phong. Every time I look at the tree, I remember my homeland and childhood memories, which perhaps follow through the life of each person …"