Attached to Phu My Hung from the early days of its formation until it became a modern urban area, many residents have considered this place as a second homeland, as their common home. On the occasion of the 30th anniversary of Phu My Hung Corporation's establishment, we recorded a number of stories from residents, thereby showing the residents' affection and attachment for this urban area.
Entrepreneur Duong Van Beo – investor of Phu Ma Duong office building for lease
Entrepreneur Duong Van Beo – The conversation between us and Mr. Duong Van Beo took place on the rooftop of Phu Ma Duong office building, where he designed a room in the middle of a small, green garden, to receive guests on behalf of the company from time to time. He said, also from this view, he has witnessed the miraculous change of Phu My Hung urban area in the past 20 years.
In the early 2000s, from Bac Lieu, Mr. Duong Van Beo went to Ho Chi Minh City to look for opportunities to develop his business. Planning to choose the South Saigon area for investment, Mr. Beo began to learn about the projects in this area. As a cautious person, he carefully studied each project, from information about the investor, legal factors to having an actual visit. Finally, he chose to invest in Phu My Hung urban project.
"I studied planning and working in the field of construction, so when I saw the plan of Phu My Hung new urban area, I really liked it. It is a methodical, scientific planning, low construction density, full of functional subdivisions necessary for the development of a modern urban area in the future. However, the decisive factor for me to put my trust in Phu My Hung is the investor of this project.
Through research, I learned that the investor of Phu My Hung urban area was also the investor of Nguyen Van Linh parkway, which was building phase 2 at that time. I think an investor who spent a big some of money to build a large parkway with dozens of bridges, must be an enthusiastic investor, with a perspective and financial potential," said Mr. Beo.
Mr. Beo recalled, at the time of the actual visit, around 2002, Phu My Hung had completed the construction of basic infrastructure. Some projects were built and inhabited by residents, such as My Canh, My An, My Hung, Hung Vuong, etc. Some utility projects were built such as, Co.opmart, Saigon South School, FV Hospital, etc.
"Compared to other sub-zones, the International Commercial and Financial Area at that time had almost nothing, just in the leveling stage. However, looking at the model, I appreciate the potential of this area. If the investor ensures the construction is as planned, the International Commercial and Financial area and The Crescent will be the center of Phu My Hung." From that thought, Mr. Beo decided to choose the land lot C4-1 (now Phu Ma Duong office building), which belongs to the International Commercial and Financial area and is located one road from The Crescent, for investment.
Wishing to have relatives to accompany him, he returned to Bac Lieu to call on his family members to contribute capital for investment. Persuasion by words, pictures, documents did not work, he took the whole family to have a trip to Phu My Hung. During that trip, he was like a reluctant "sale agent", introducing and presenting to everyone little by little about Phu My Hung. Here was the school, here was the hospital which had already been built, the other plot would be the financial and commercial center, this land would be the exhibition center in the future, etc.
Some people believed, some people shook their heads… there were people who wanted to have investment but did not have enough capital, Mr. Beo had to lend them money. In 2003, Mr. Beo and his family members signed a transfer contract, officially becoming one of the first investors in the International Commercial and Financial area with a total area of nearly 1,000 m2 , in which, Mr. Beo was the largest shareholder, contributing 37% of the shares.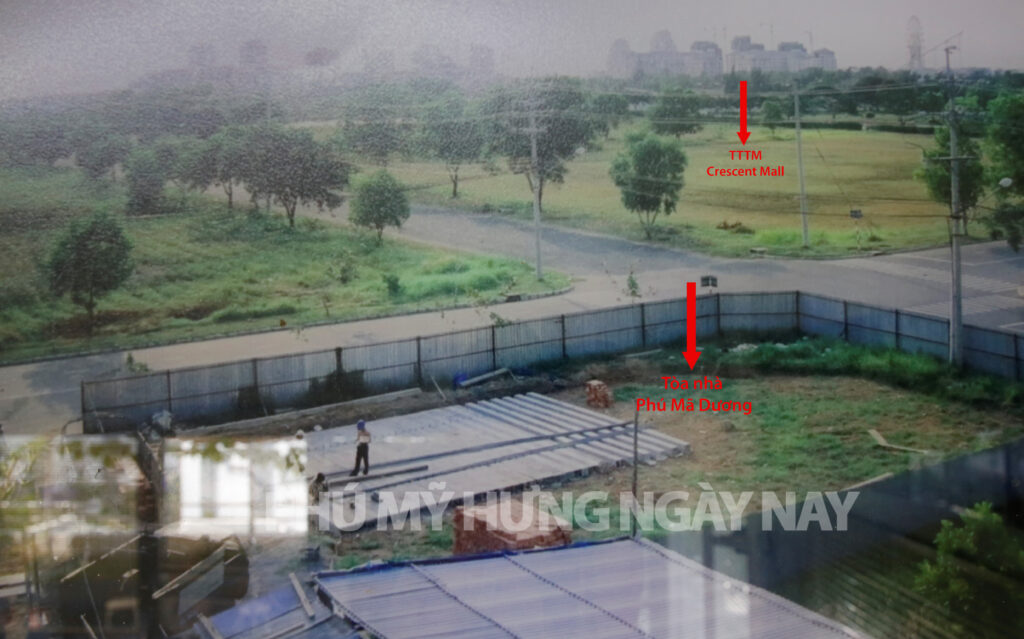 Having completed the contract for not so long, before completing the legal procedures for the construction, Phu My Hung project at that time encountered some policy problems and had to wait to be resolved. "Because Phu My Hung is the first real estate project whose investor is a foreign joint venture, its legal framework is incomplete and must be gradually removed and completed, therefore the project progress has slowed down a bit. I myself understand that, so I sympathize with investors, but many people who contribute capital do not think so, starting to speak out. Some people say that I am foolish, I have been cheated, collecting money from my brothers to buy a piece of land for growing water spinach", Mr. Beo recalled.
The pressure was so difficult that Mr. Beo thought of leaving everything to settle abroad. Fortunately, at that time, his wife advised him to stay, to complete the project, to prove that he did not make the wrong choice and did not deceive anyone, either.
When the problems were removed, in May 2005, Mr. Beo started the construction of Phu Ma Duong Building. In 2008, the building was put into operation, and only 6 years later, in 2014, Mr. Beo recovered his capital. "Too much faster than I expected. Right from the moment I decided to invest in Phu My Hung, I always believed that Phu My Hung would develop, but I think it was a matter of the future, 20-30 years from that time. Unexpectedly, it took less than 10 years to recover capital," said Mr. Beo.
His initial plan when investing in Phu My Hung only expected an income of about 50 million dong a month, but at the time of 2009, with a 6% share, a profit of 5,000 dollars was shared each month (approximately 85 million VND). Talking about the success of investing in Phu My Hung, Mr. Beo made an interesting comparison: "In 2003, when I invested in Phu My Hung, I sold my house in the center of Bac Lieu city. With a selling price of a square meter house at that time in Bac Lieu, I could buy 10 square meters of land in Phu My Hung. After 20 years, the land value of both places has increased, but with a square meter of my land in Phu My Hung now, I can buy back 20 square meters of land in Bac Lieu, right where my house was before."
Mr. Beo assessed that his investment success was greatly due the great support from the investor, Phu My Hung Corporation. The strong development, commitment and planning of Phu My Hung has made investors like him have direct benefit. At the end of 2005, he was directly in charge of the project. When he was pouring concrete on the 4th floor of Phu Ma Duong building, looking towards Thay Tieu canal, he saw a barge carrying a crane entering. He immediately ran down to inquire for the information. Knowing that the investor was about to start construction of The Crescent, he cried tears of joy. That night, he couldn't sleep.
"I know I have put my trust in the right place. Since then, every time Phu My Hung's project is built, the value of my project is increased. That value also comes from the operation and management of Phu My Hung so as to get a modern, civilized urban area with good quality of life. Most recently, when Phu My Hung inaugurated the Phu My Hung Tower, which is one intersection from Phu Ma Duong building, we also enjoyed some benefits," Mr. Beo said.
Looking back at his investment story in Phu My Hung, what he is most satisfied with is that he has brought a good life to his loved ones. Most of the brothers in Mr. Beo' s family are currently residents of Phu My Hung, living a settled life in this urban area.
The love for Phu My Hung, for Mr. Lawrence S. Ting (former Chairman of Phu My Hung Asia Holdings), is included in the songs composed by Mr. Beo, in which his favorite song is Hoai Niem (Nostalgia), because he said: "Like Mr. Ting, I put all my love and attachment to this urban area, I accept this place as my homeland!"
Mr. Đinh Hoang Giang and Mrs. Ho Thi Hong Yen – residents of Sky Garden 3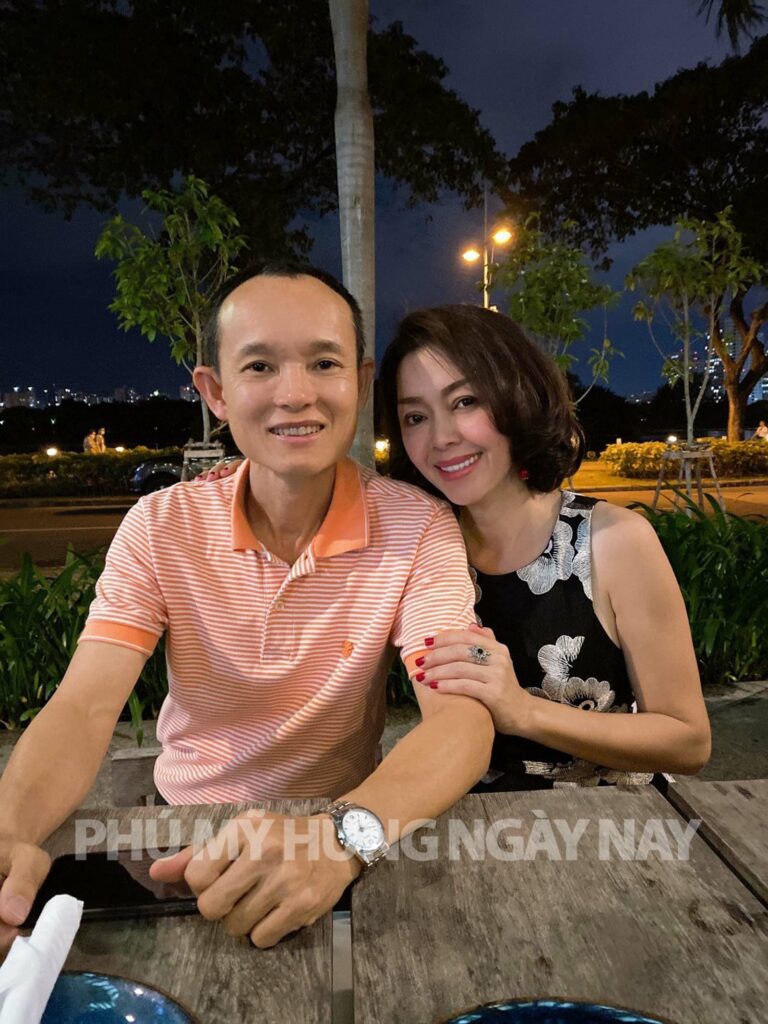 As usual, every weekend afternoon, enjoying tea on the balcony and enjoying the view is the "private sky" of Hong Yen and her husband Hoang Giang. The family has "settled" in Phu My Hung for more than 20 years. Mrs. Yen cannot forget the feeling of coming to the urban area for the first time when there were only a few buildings and many friends advised: "Why did you choose the dream city to live in? A dream city is only in a dream!" But she and her husband bet their faith in the investor's perspective because they are convinced by the methodical planning, focusing on a green and clean living environment for residents, an unprecedented urban planning in Vietnam before. So far, she and her husband can confirm one thing: "We have put our trust in the right people and in the right place!"
"Phu My Hung has always been a place where our family, no matter where we go, would like to return to our warm nest (formerly in Hung Vuong, now in Sky Garden 3). Phu My Hung for us is full of memories. We have witnessed the investor step by step providing convenient services for residents, such as building schools, shopping centers, building Anh Sao bridge, parks, etc. and this place has witnessed the step[1]by- step growth of my children. I still remember the day when my eldest son, Dinh Ngoc Thien, was still a toddler and kept asking his mother to take him around in the neighborhood. He quickly became a secondary school student, then a high school student of Lawrence S. Ting School. Graduating from university last year, Ngoc Thien is now an employee of a company specializing in underground cables. Following her brother, his sister Hong Lam is currently an 11th grade student at Lawrence S. Ting School. The youngest child, although only in grade 4, will certainly follow his siblings to become a student of this proud Lawrence S. Ting School.
Yen's whole family always feels "Here, all services are served at the door. Just a few steps from the apartment, any service is available. Then what else would you want?" As Hoang Giang often reminds his children: "When we know enough, we will feel satisfied and happy with what we have. But as far as I can see, what we enjoy from the services around our place here is more than enough can even be summed up in one word "Wonderful!"
Mr. Nguyen Van Tan – resident of Nam Long 3
In the previous issues of Phu My Hung Newsletter, we have introduced poems about life and the landscape of this urban area. The author of those poems is Mr. Nguyen Van Tan, a resident who has been with Phu My Hung for more than 20 years.
Currently, Mr. Tan has composed more than 20 poems about Phu My Hung. For him, Phu My Hung's journey of rising from the swamp to a modern urban area, which he witnessed, is a great poetic inspiration.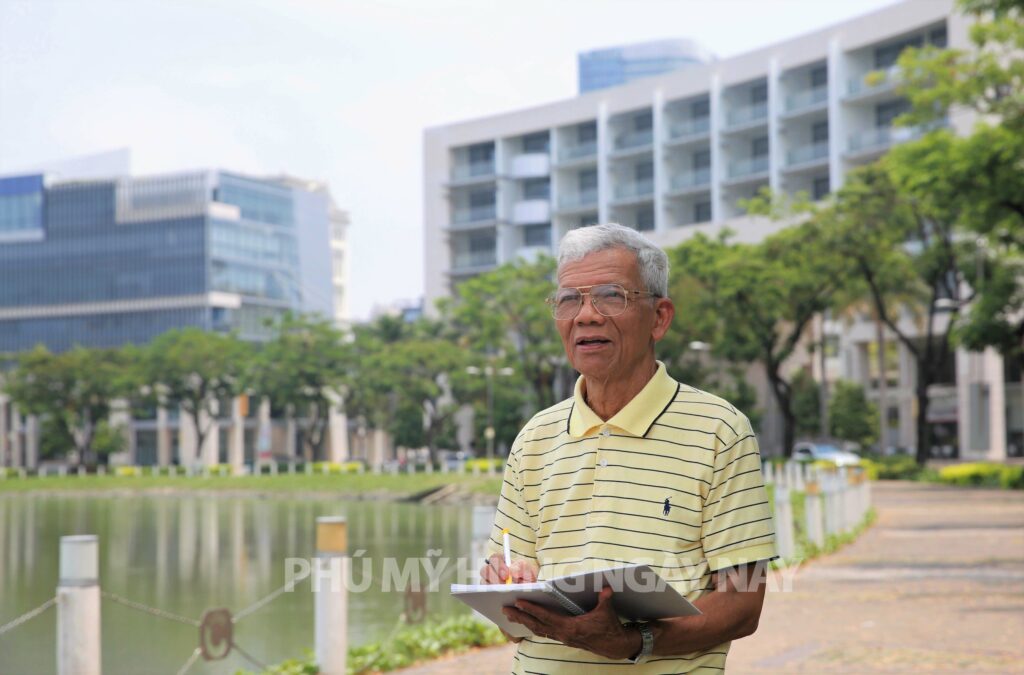 Mr. Tan said, he had a predestined relationship with Phu My Hung when this area was still a project on paper. In the 1990s, he learned that there was a foreign investor who was doing joint ventures with Vietnam to implement key economic projects, such as export processing zones and Nguyen Van Linh Parkway. Then through a friend, he learned that this joint venture was also building an urban area in the south of the city. From a personal perspective, he considered that such key economic projects were essential for the development of the country when entering the renovation period.
In 2000, while driving to visit Nguyen Van Linh Parkway, seeing the Phu My Hung sales office holding a product sale ceremony, Mr. Tan stopped by to find out. Having had initial sympathy with the investor, when he learned more information about the scale and planning of Phu My Hung, he was even more impressed. That year, he decided to invest in the Nam Long 3 land plot project, with an area of 126 square meters.
"At that time, the project was still leveling. Many people were surprised when I spent money "buying land on paper". However, I had special confidence in the investor of this urban area, because I saw their seriousness, prestige and perspective in previous projects," said Mr. Tan.
A year later, Mr. Tan became the first residents in Phu My Hung to be awarded a land use right certificate. In 2006, on that land, Mr. Tan built the first house of Phu My Hung. In 2016, he bought an apartment in Midtown for his children to live together in the future.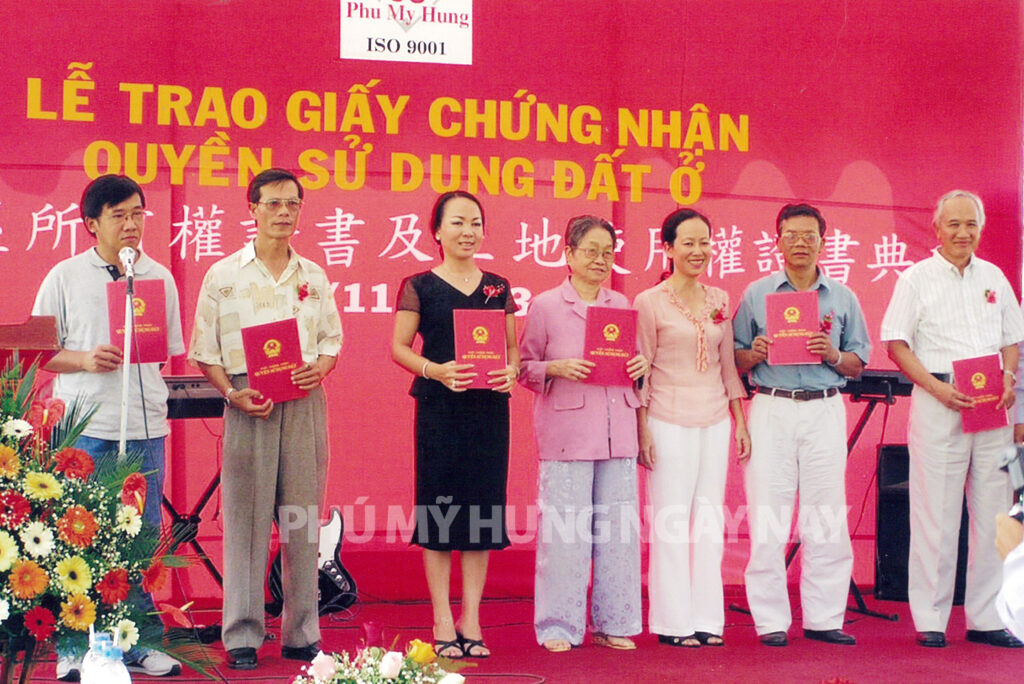 Attached to Phu My Hung, Mr. Tan also has a lot of affection for Mr. Lawrence S. Ting, the late chairman of Phu My Hung Asia Holdings, who devoted a lot of effort to implementing projects, such as Tan Thuan Export Processing Zone, Nguyen Van Linh Parkway, Phu My Hung urban area. "I was very impressed with the simple image of Mr. Ting, sitting on a dinghy to do field surveys. It was from such trips that Phu My Hung urban area was shaped. Inspired by that image, I wrote a few verses:
Sitting firmly on a small boat,
With resilient and cheerful figure,
A surveyor is looking for opportunities,
To build a fortune here.
Together with other early residents, we witnessed the change of Phu My Hung urban area day by day, from a swamp to a modern urban area. Utilities such as hospitals, schools, supermarkets were built, banks, office buildings, etc. appeared, the lives of residents became more and more convenient with better quality, the rhythm of urban life was also more vibrant.
However, what I like the most is that no matter how strongly and modernly develops, Phu My Hung still retains a green living space, in accordance with the original plan. Those are the poetic qualities that I see in this urban area. I chose to put Phu My Hung in poetry, both for poetic joy and for many people to understand more about the story and the beauties of this place," said Mr. Tan.
News & photos: Kim Luyen – Thanh Toan