A river city with many rivers surrounding. A healthy community of residents with love for the new. A complete infrastructure and the addition of a yacht club with a licensed Marina… "good land attracts birds", the old folk saying seems to make sense when that advantage has attracted people with new ideas to come together to collaborate.
In this issue we introduce the water sport brought to Phu My Hung by an extreme sportsman. It is Stand Up Paddleboarding, also known as SUP.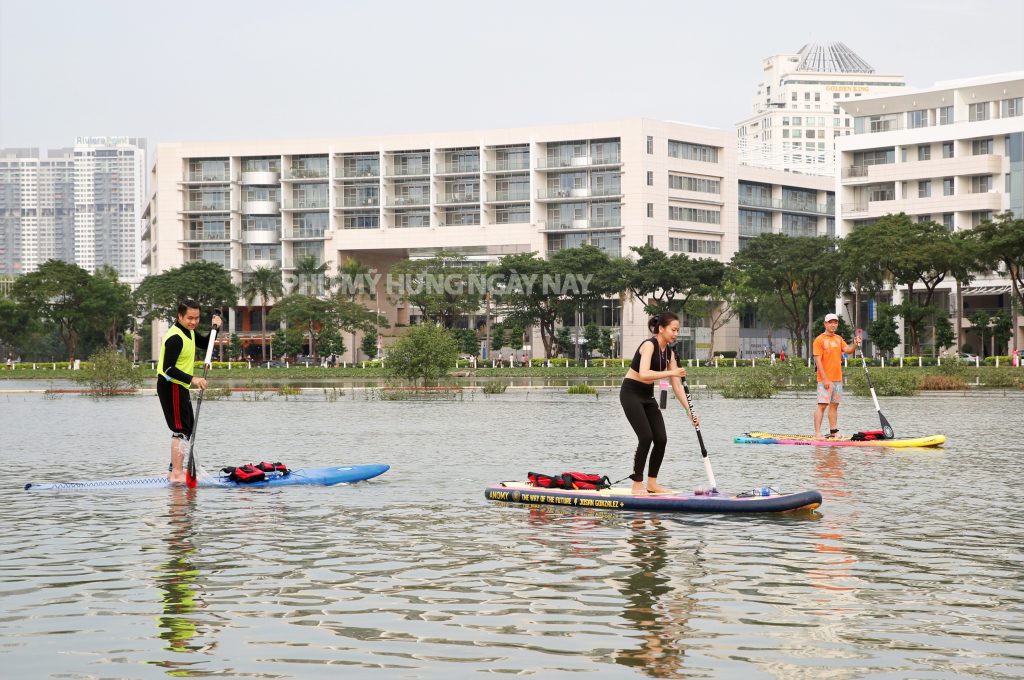 The man who brought this sport to Phu My Hung is athlete Nguyen Ho. According to Mr. Ho, at first glance to play SUP you only need very few tools, just a swimming board, a paddle and a life jacket. However, the reality is not so simple, because unlike a tennis court, a swimming pool or a running track…, which are always available everywhere, to play SUP you must have… a river. When there is a river, you must have a satisfactory wharf to be able to enter the water. Fortunately, in Phu My Hung, SUP players have these two important things available: a river city with rivers and canals always surrounding and a licensed river port is located right in the South Saigon Marina Club project, called SSMC for short.
As a famous sportsman, experience and adventure traveler of the city, Nguyen Ho said that after climbing mountains, wading in the forest, crossing the plains by dangerous sports, such as trekking, mountain bike, outing motorbike, outing cars…suddenly one day he found himself needing to… go into the water. There with equally strong sports such as: Kayaking, water skiing, Jet ski, yacht,speedboat, etc. Ho discovered a new perspective on nature and unique adventure pleasures adding to the passion of the person who loves challenges: is it water, rivers, wild natural lakes or vast oceans…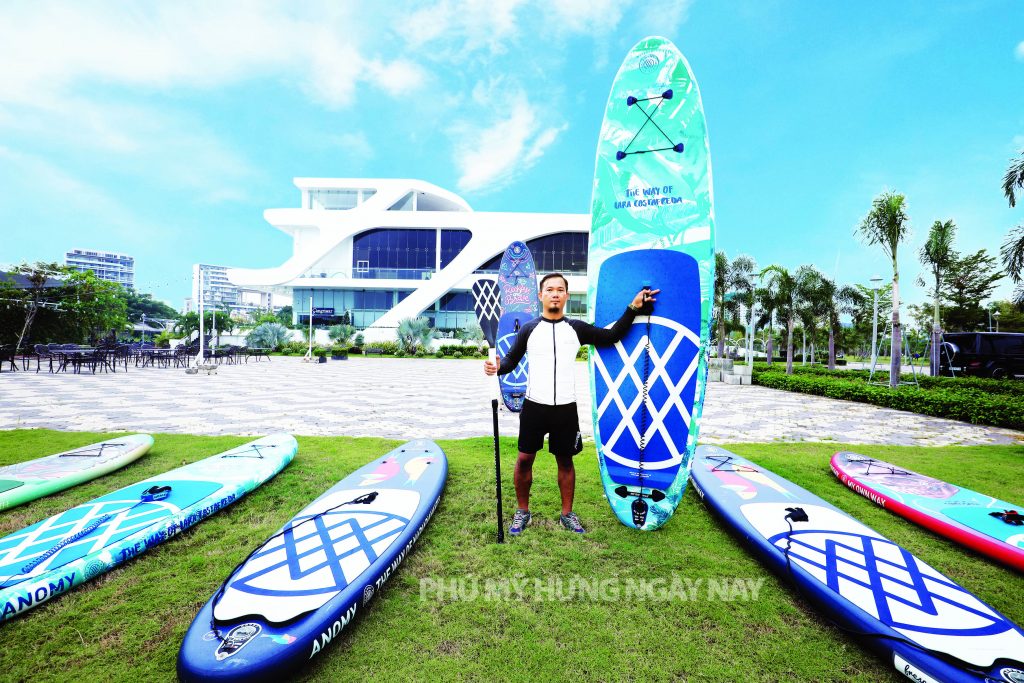 Obviously, as with any new and somewhat risky exploratory sport, the first problem is not just playing, but playing methodically and safely. First, Ho had to attend and complete the Basic First Aid Course held by Surf Life Saving Services (Australia) and Vietnam Survival Skills company in coordination training. After that, he clearly defined the goal of this game: in addition to playing, it also transmits knowledge of water sports, water safety, technical sports and from SUP which is just basic to go further to kayak, jetski, yacht, speedboat, etc. to create a young community that loves to conquer the ocean and rivers, which is a feature of a coastal nation like our country.
So since 2019, Nguyen Ho has built paddling stations to facilitate training and disseminate SUP in Diamond Island, Swan Bay City (Dong Nai), Can Gio and now SSMC in Phu My Hung.
Talking about the reason for choosing Phu My Hung, he said that this is an urban area with many advantages for this sport because first of all, there are many residents who love sports, and secondly, it has very suitable infrastructure: SSMC has a licensed wharf, can receive water traffic, has enough WCs,  standard changing rooms, has a spacious car park…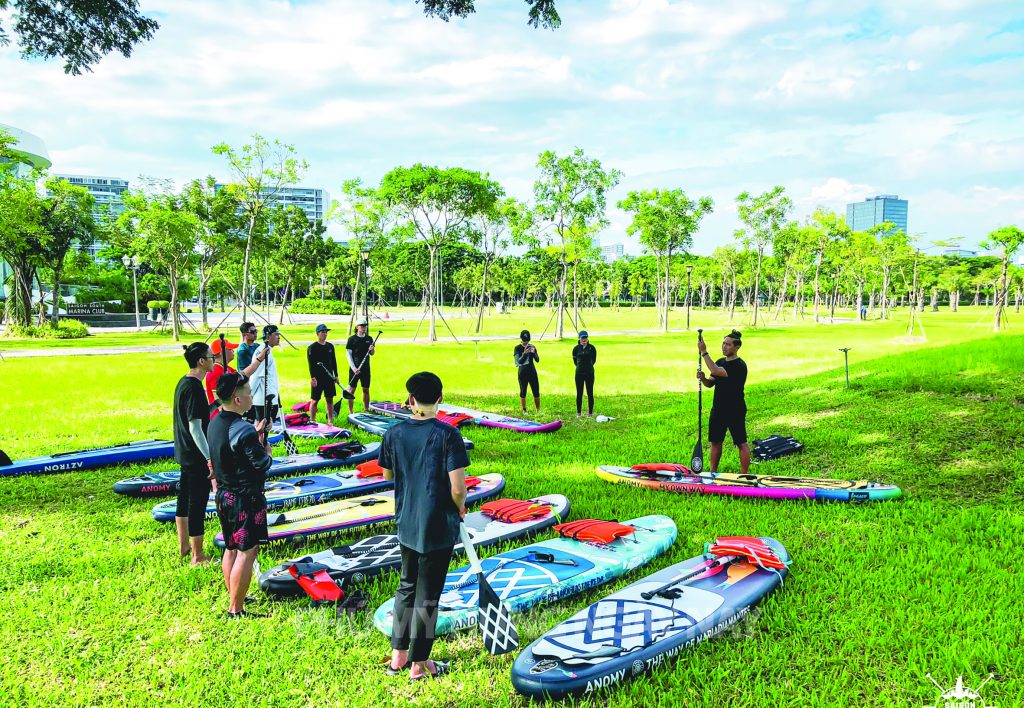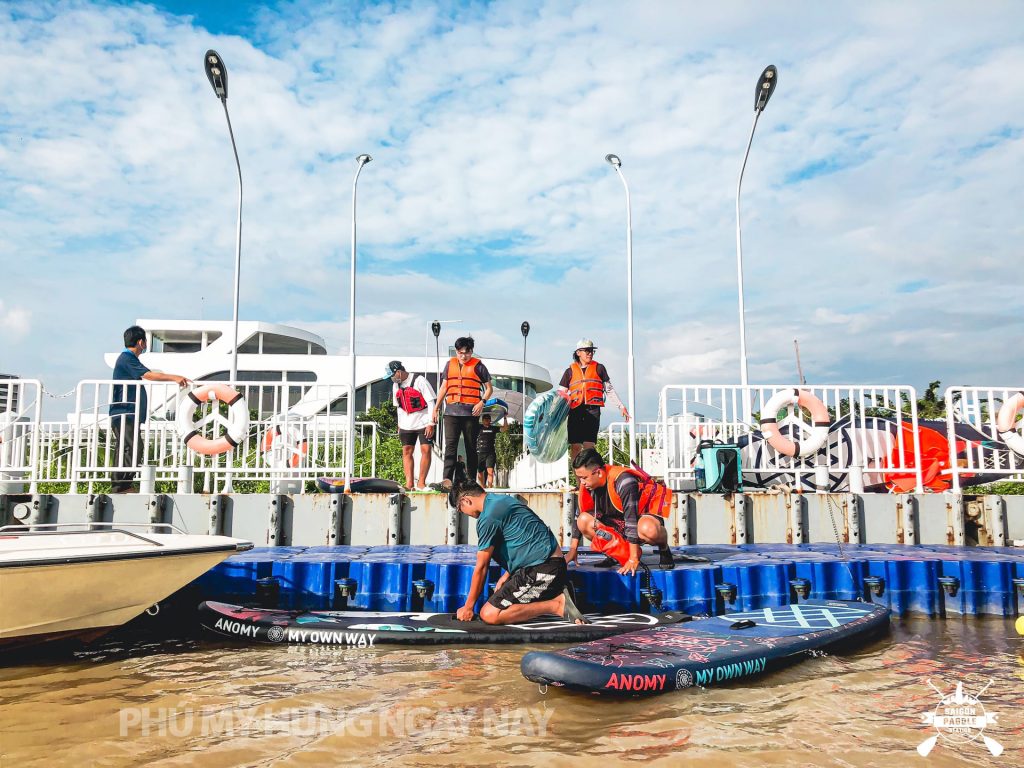 Regarding the water, the river around Phu My Hung (District 7) is a suitable place to paddle SUP in the inner city of Ho Chi Minh City because the river water is calm, while other river wharfs like in Thanh Da (Binh Thanh district) the water flows more strongly, suitable for professional players.
SUP means stand-up paddleboarding, in which participants sit or stand on the board, using paddles to move on the water. This is a very interesting means for each of us to connect with nature. SUP is suitable for everyone regardless of body, age or skillfulness. Depending on your ability, you can comfortably paddle on a calm river or lake (without having to buy and maintain a whole boat) or more vigorously challenge the waves. Or you can do yoga gently in the middle of a quiet river on a paddle board or improve your fitness by swinging your paddle in the surf.
Whatever the purpose, you always have a great day with friends on a peaceful river with tranquil green trees along the shore or on a quiet lake surrounded by majestic mountains. It is a simple and pure happiness.
PHU MY HUNG SUP STATION – SAIGON SOUTH MARINA CLUB
PHU MY HUNG MARINA
Address: 9A Tran Van Tra St., Tan Phu Ward, Dist. 7, HCMC
Cost of participating on weekdays: The station has 2 training packages:
– Package by session for 650,000 VND/session (convenience package), 20% off to 520,000 VND. Fee includes: Training and practice paddling for 3 hours/session.
– Package of 5 training sessions for professional SUP paddlers who want to improve their skills with a fee of 2,600,000 VND/course (saving package), 20% off to 2,080,000 VND.
In addition, for those who know basic paddling, you can rent a SUP to play for 450,000 VND/session/3 hours, 20% off to 360,000 VND
Saturday and Sunday training fee is 650,000 VND/session, SUP rental fee is 450,000 VND/session.
PMH