After the endless desire to conquer nature and even to conquer themselves of Phu My Hung residents: jogging for dozens of kilometers on all terrains from plains to high mountains, cycling thousands of kilometers, walking through the highland a few thousands meters above sea level, riding motorbikes alone along the country or swimming in the ocean across great seas, now, they don't go across or go up anymore, but start going… down. they dive into the sea.
Currently, diving including free dive or scuba dive is a new trend among Phu My Hung residents – who have "played" almost all kinds of challenges, such as swimming, cycling and running triathlon, ironman or oceanman, etc.
Ms. Truong Anh Tuyet – Sky Garden resident – free dive athlete
Resident Truong Anh Tuyet, a woman in her 30s and has been diving for a few years, said: "I swim in the sea all the time without understanding what is underneath, especially the fear of not knowing what's down there and the best way to deal with that fear is… to face it, so I dive in…"
"Although both are called diving and going deep into the water, Free Dive and Scuba Dive are completely different in technique, especially breathing technique, which is the most important part of diving," Ms. Tuyet explained.
"Free Dive relies mainly on breath-hold technique. We only have one breath for an entire dive, so a free-diving session usually has many diving sessions, each lasting only a few minutes. Whereas with scuba diving, you carry an air tank and are provided with air to breathe, so you can breathe comfortably like on land. Therefore, a Scuba Dive session consists of only one dive session lasting tens of minutes to several hours."
Ms. Tuyet passionately talked about the magical feeling of sinking deep into the ocean in absolute silence, as if falling into a region of zero gravity, moving down, lying horizontally above the coral reefs, rotating body in all directions… feeling a sense of absolute freedom completely different from the terrestrial world. Then the magical lights shimmering, the
trembling fear before the mysterious dark areas or the rocky seams, coral reefs … then a world of fish, of sea creatures in the heart of the sea… She felt a really relieved mood. All worries, stress of life almost disappeared in the ocean…
She admits that this sport has a lot of risks, such as decompression illness when emerging too quickly, including nitrogen gas bubbles in the blood and tissues, or lung injury. However, these risks can be minimized when we take classes with professionally certified instructors of international diving associations such as PADI or SSI; and above all discipline in following safety instructions and technical situations.
In addition, going into the deep sea always has many unpredictable uncertainties, Free Dive also has the risk of blackout in shallow water, so you should have to dive with a diver to support each other. But, all those risks are under control and they are well worth the above experiences. Therefore, Ms. Tuyet always loves her diving. She has gone diving everywhere along the coast of Vietnam from Tho Chu, Nam Du, Cu Lao Xanh (Binh Dinh), Ly Son (To Vo Gate), Vinh Hy, Van Phong, etc.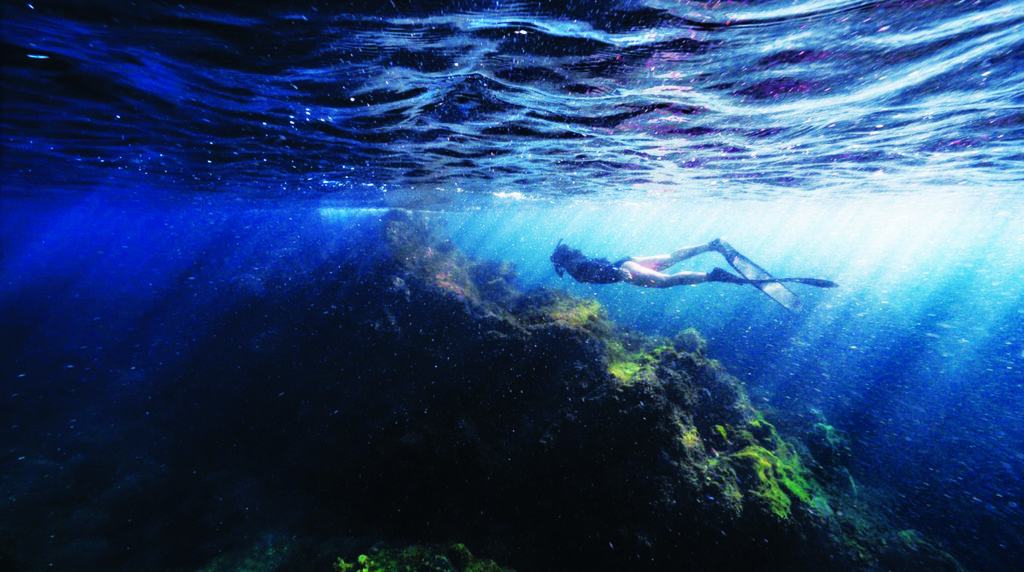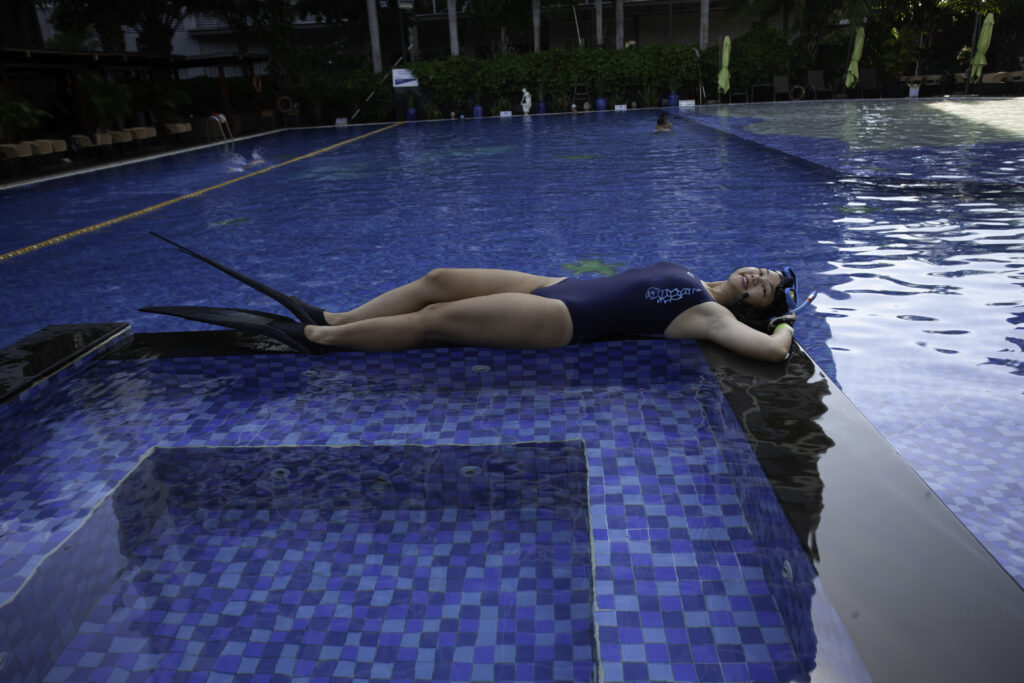 Mr. Nguyen Hong Son – Panorama resident scuba dive athlete
Mr. Nguyen Hong Son, 46 years old, a consultant, Panorama resident who specializes in Scuba Diving, explained clearly: there are 2 forms of Scuba Dive: try dive and fun dive.
Try dive: for those who do not have a degree. Divers will be guided by the coach in detail: how to wear a diving suit, how to use the mouth to breathe underwater, how to move, how to make signs in water environment, etc. Divers always have a diving coach to dive with.
And fun dive: for people who already have a degree. Divers prepare their own diving gear (usually rented from a diving center), enter the water and move freely under the supervision of a coach.
Regardless of the type of diving, the necessary conditions are: basic swimming skills, pressure balance when diving, absolute compliance with the requirements of the coach.
Before the question, "Which seas have you gone diving in? What's different about each sea? Unique characteristics of each seabed, etc." Mr. Son said: Nha Trang is considered to be a diving paradise" in Vietnam with many diving spots near the shore and rich flora and fauna. He has gone diving here more than twenty times. However, the number of fish/sea creatures/coral is decreasing. Some of the causes may be illegal fishing in the marine protected area, environmental pollution, and destructive fishing (using explosives, chemicals, rake nets).
Diving in Phu Quy island is attractive because there are sunken ships at a depth of 20m, the number of fish species is less than in Nha Trang. He has dived here three times.
In Phu Quoc Island, where famous dugongs live, however, no diver has said that he has encountered dugongs while diving in Phu Quoc. Here, at the bottom of the sea, there are hot and cold water currents.
Mr. Son gives advice to those who want to participate in this sport: there are many diving training centers in Vietnam, concentrated in Nha Trang, each center will teach and issue certificates and diving licenses for students. There are 3 popular diving licenses: SSI, PADI and NDL. This is a diving license of 3 famous international diving associations. Diving centers in Vietnam are attached to one of the three centers mentioned above.
The diving centers in Nha Trang can be mentioned: Angel Dive Vietnam, Rainbow dive, Sailing Club Dive…
In HCMC, there are also diving centers, concentrated in District 2 such as: Viet Divers, Rumblefish, SSI diving…
Beginners can learn the "open water diving" course. The cost is about 7-8 million dong. After about 10-15 dives, divers can continue learning "advance diving". The cost is similar. The cost for 1 day of diving including transportation costs, renting diving equipment (life jackets, air tanks, masks, fins…) ranges from 1-2 million dong depending on the difficulty and travel distance.
Through many times of scuba diving, Mr. Son also feels worried because the sea environment and seabed are quite degraded due to the destructive exploitation (explosives, chemicals, rake nets) which has devastated the marine environment in Vietnam, low awareness of environmental protection, loose management.