Attention all Crescent Wall climbers! Don't miss your chance to sign up for the Crescends Boulder Junior Competition. With exciting new challenges and fantastic prizes and gifts, this is an opportunity not to be missed.
The competition is all about teamwork, with teams of two competing for the top prize. You'll be randomly paired with another competitor on the day of the event.
The contest will take place on May 14, 2023, for one day only, at the Crescent Wall artificial climbing area.
Register at the following link: https://forms.gle/GjZKwubzh59NfJoY8
Location: Crescent Wall artificial climbing area (Crescent Mall, 101 Ton Dat Tien, Tan Phu Ward, District 7, HCMC)
Website: https://pushclimbing.vn/en/push-district-7
Hotline: 0901 242 022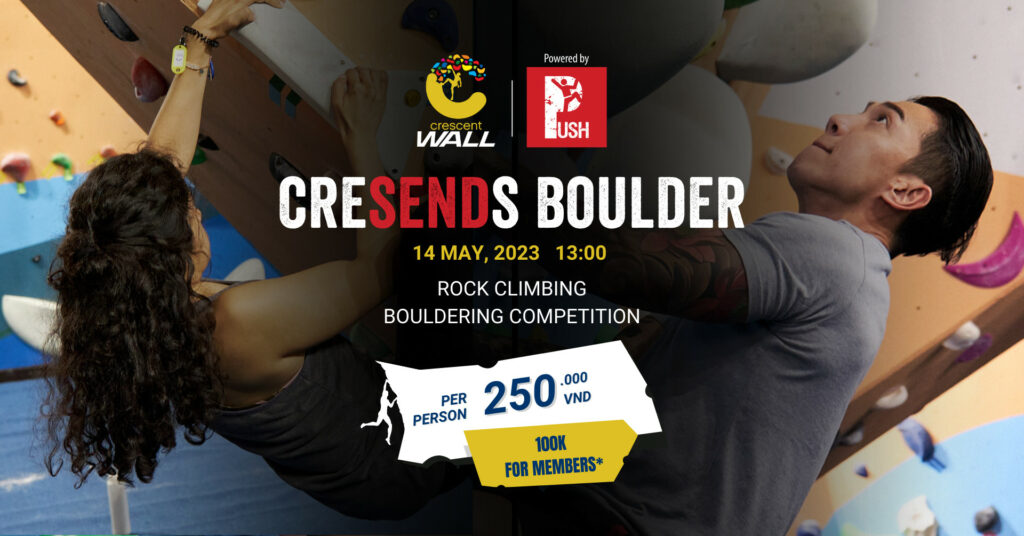 Children's Competition:
– 10:00 Upon arrival, candidates should check in at the registration desk to receive their team number and learn about the competition rules
– 10:30 The contest starts
– 12:00 The contest ends
– 12:30 Result announcement and award ceremony
Adults' Competition:
– 12:00 Upon arrival, candidates should check in at the registration desk to receive their team number and learn about the competition rules
– 13:00 Listen to the climbing area's safety rules and instructions
– 14:00 The contest starts
– 17:00 Result announcement and award ceremony
Source: Crescent Mall