For the first time, Lawrence S. Ting Foundation launched the "Christmas for Children with Disabilities" Event with the desire to connect disabled children closer to the community. The event consists of two main activities: An art exhibition of works from children with disabilities and a Christmas Fair.
The unique artworks made by disabled children themselves will offer an interesting art space with many meanings to visitors. In addition, the outdoor space of the exhibition is a Christmas fair with various vendors including food, story books, fashion cloths, etc. suitable for children and families, as well as young people.
The event will take place in 2 days, December 24-25th , 2022 at the outdoor courtyard area at 107 Ton Dat Tien, Tan Phu Ward, District 7, Ho Chi Minh City. (Please scan the QR code in the below image to go to Google Maps).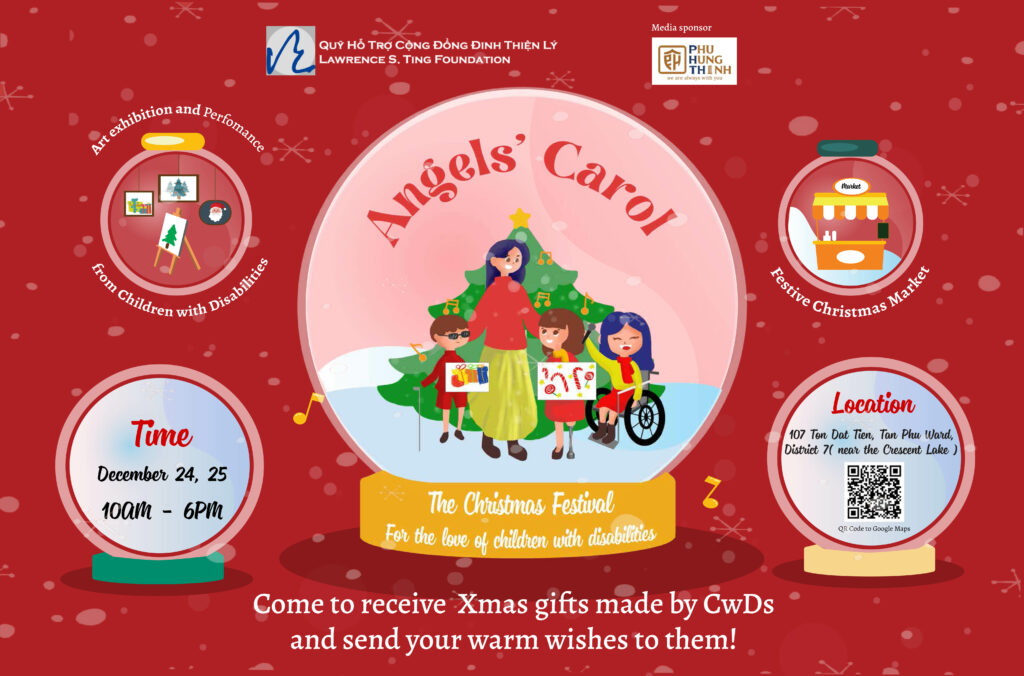 Coming to the event, visitors can participate in:
– Art exhibition: enjoy different artworks made by children with disabilities and also get experience from the special sign dance performances. Works of art include handmade products such as decorations, bags, etc., and pictures of disabled children.
– Christmas stalls: enjoy the warm Christmas atmosphere and feel free to visit and shop at the fun and meaningful stalls related to children with disabilities.
– A series of collective activities: making handmade cards, decorating Christmas trees, learning about children with disabilities through infographics, minigames, etc.
The Lawrence S. Ting Foundation hopes that "Our better angels" will receive more attention from the community. All donations from the event will be used to raise funds for the project "Our better angels "to create conditions for children with disabilities to receive a better quality education, and to increase motivation for them to overcome difficulties and get closer to their dreams".
For more information, please contact:
Lawrence S. Ting Foundation
Address: 4th Floor, Crescent Plaza, 105 Ton Dat Tien, Tan Phu Ward, District 7, HCMC
Tel: 0285 411 3949 or 0973824801 (Mr. Luong)
Email: [email protected] Website: lstf.org.vn