Information about the start of construction of campus 1, Lawrence S. Ting School has received the attention of many parents and students in Phu My Hung and surrounding areas.
Phu My Hung Newsletter would like to introduce some perspective images (*) so that readers can have a preliminary picture of this school, which is built with the orientation to become a complex of educational space (campus).
Modern scale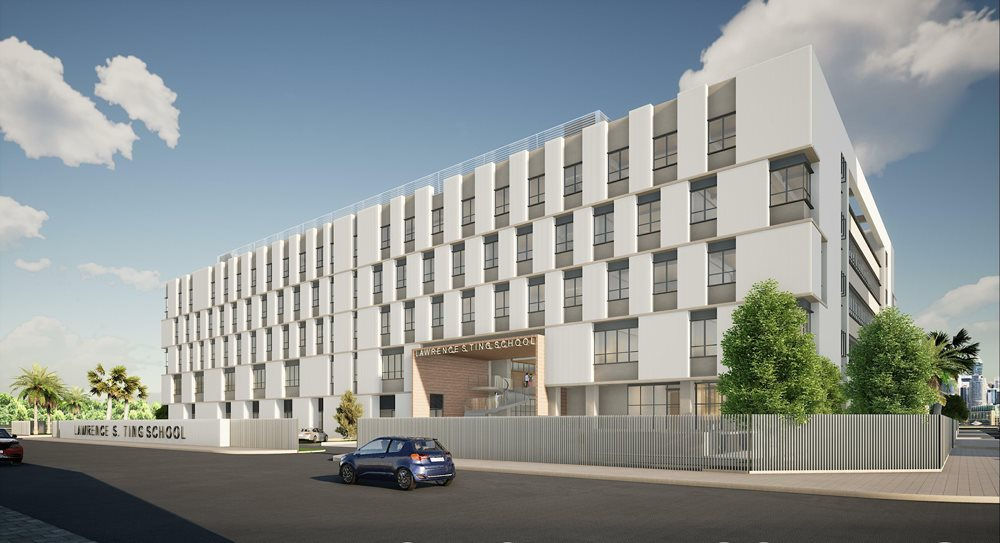 Campus 1 under construction of Lawrence S. Ting School is located in the International Commercial nd Financial District, Phu My Hung, about 2 km from the main campus (current Lawrence S. Ting School).
Campus 1 of Lawrence S. Ting School has a scale of 1 basement, 1 ground floor and 4 floors, with a total construction floor area of more than 22,500 m2; maximum size of 32 classes with 1,024 secondary and high school students. It is expected to come into operation from August 2022.
The school will be built with 43 standard classrooms and 4 self-study rooms. Each classroom has an area of about 80 – 82 m2, equipped with movable tables and chairs (for easy grouping), class cabinets, screens, computers, audio and lighting equipment and lights are designed to suit different purposes of each zone.
The practical and advanced practice rooms of Physics – Chemistry – Biology, with an area of 93 -131 m2/room, are equipped with standard and advanced laboratory equipment, helping students to experience and explore science through practical and experimental activities in physics, chemistry, biology and scientific research.
Space for modern technological skill training
The space for modern technological skill traing of Campus 1 Lawrence S. Ting School includes rooms such as: computer room, ADMT room (Art, Design, Media, Technical), MakerLab, VEX, Studio to support students in learning, practicing, experiencing and developing skills related to modern technology such as information technology, art, design, communication, fine arts, etc.
The school has 3 computer rooms (ICT – Information and Communication Technology) with an area of 111 m2/room. Each ICT room is equipped with 32 computers connected to the internet, installed with the copyrighted Windows operating system and learning software with the latest version, maximum support for learning, practice and capacity development of information technology.
ADMT room has an area of 158 m2 is a place for students to learn and practice knowledge and skills in graphic design and fine arts. In addition to the ADMT room, the school also has a Makerlab as a small craft workshop for STEM lessons with skills in 3D design, laser cutting, etc.
The VEX programming room taking an area of 150 m2, a flexible space, is equipped with scale model tables and full components to assemble and program the VEX V5 robot, giving students interesting learning experiences, creating opportunities for students to test, participate in international competitions of the VEX Robotics Competition.
The studio of 119 m2, including 5 spaces: photo studio, talk show studio, recording studio, control room, production room with modern equipment is a place for students to practice their knowledge and skills about making films such as, recording, filming and editing film products, organizing talk shows.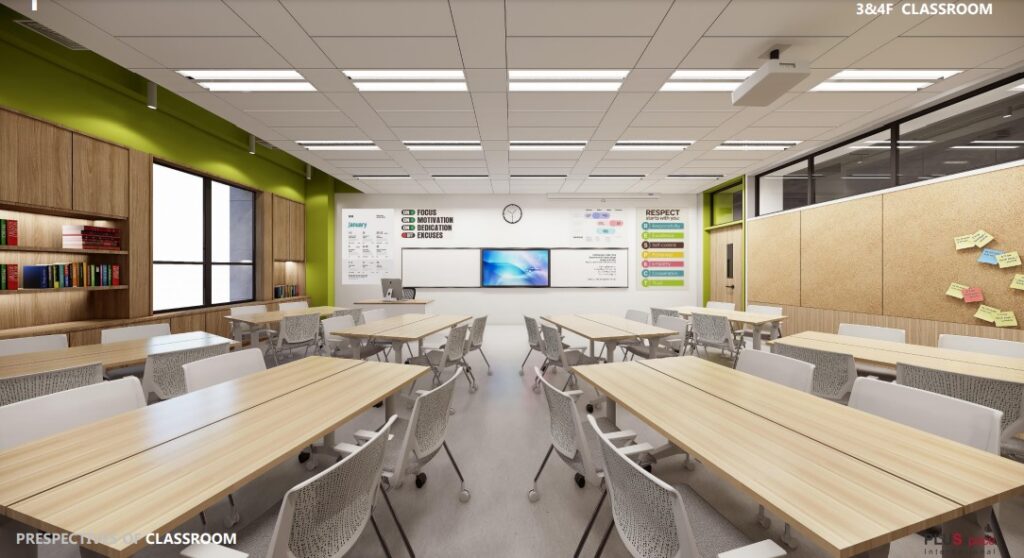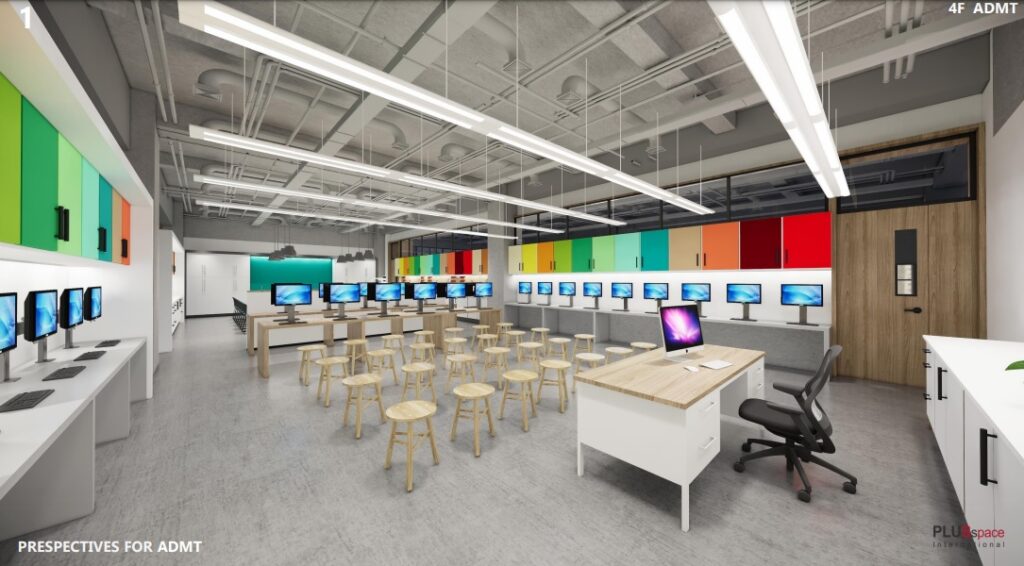 Space for training and developing artistic talents
The space including rooms such as: music room, dancing room, drama room with full equipment, musical instruments,… will be a place for students to learn, practice and develop their skills and talents about art.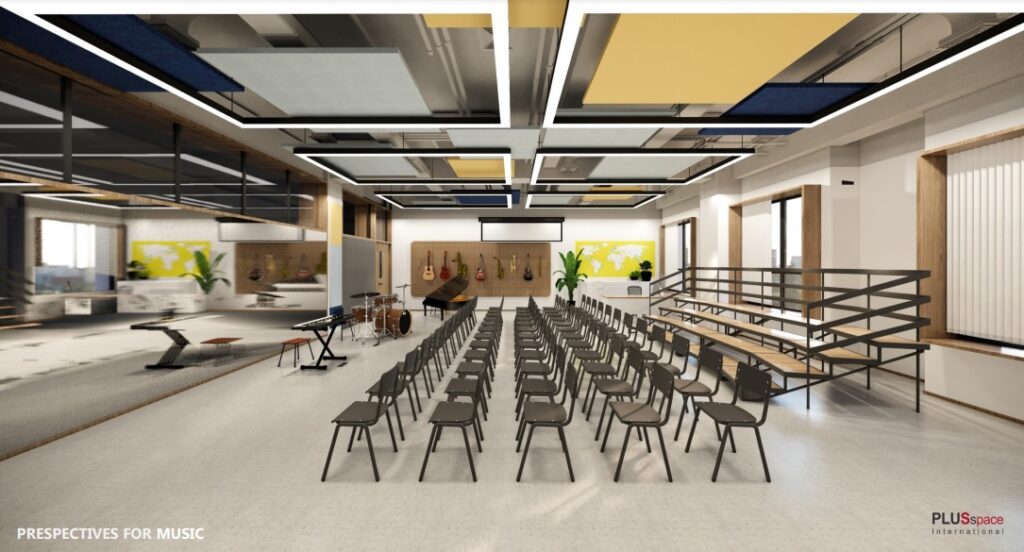 Space for exercise, physical training
In addition to the learning spaces, Campus 1 of Lawrence S. Ting School also builds many exercise spaces for students, in order to help them get the best physical development, such as: Multi-purpose gymnasium, gym, swimming pool, football field, basketball court, golf course, etc.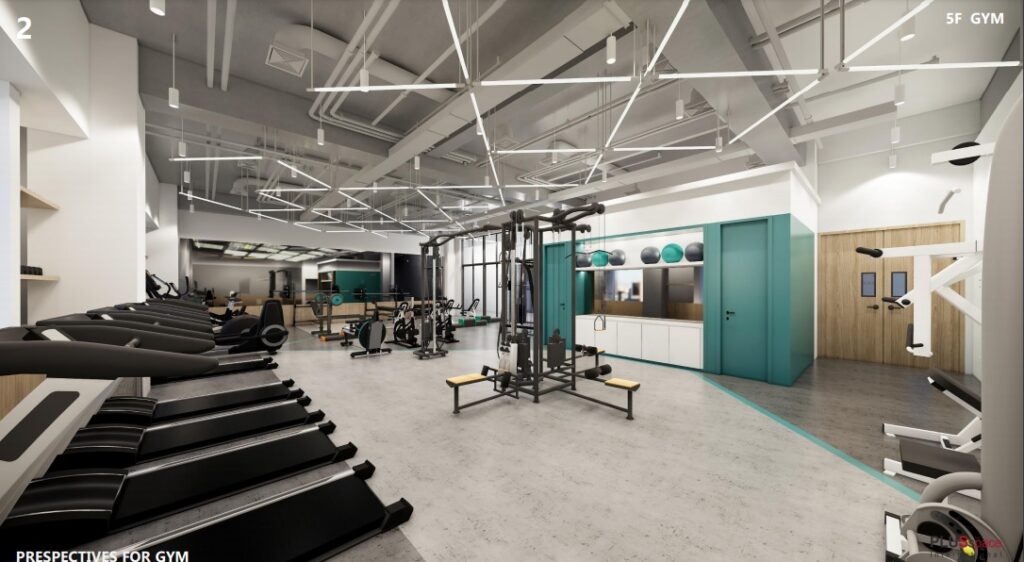 Learning support space
Many spaces to support students' learning at Campus 1 of Lawrence S. Ting School will also be built such as library, hall, theater, counseling room, medical Room, etc.
The hall has an area of 507 m2 with a capacity of 336 people, with a stage, sound and light system invested and built according to international standards, which will be the place to organize events, seminars on educational topics as well as introduce the learning achievements of the students.
BlackBox experimental theater has an area of 224 m2, equipped with 158 seats with modern sound and light systems. The rows of seats can be flexibly folded to expand the stage. The BlackBox experimental theater is where students build, practice, and perform plays or organize exchanging activities with experts outside the school.
The counseling center is comfortably designed, with individual consultation rooms and group consultation rooms. Students will be supported by excellent domestic and foreign experts to answer questions in 3 areas: vocational guidance, psychology and overseas study.
Other function rooms are also designed with a youthful, modern, comfortable and student-friendly style.
It can be said that Campus 1 of Lawrence S. Ting School will be built with the expectation of becoming a complex of educational spaces with full functions, helping students to develop comprehensively in morality and intelligence, physique, aesthetics; equipping students with the knowledge, skills and qualities of a new generation of global citizens, in line with the core values that the school has oriented: service, respect, responsibility, excellence, honesty and balance.