Security for the urban area is the top requirement set by Phu My Hung since its inception. during the past 30 years of development, reality has proved this, Phu My Hung urban area is a safe, civilized and humane place to live that is recognized by everyone.
Phu My Hung newsletter has reported many times about the activities of Phu My Hung security. in 2016, we had a topic on the work of the security and now, as we prepare to celebrate 30 years of the development of the urban area, we are back to have a new look at their activities.
Applying new technologies
Arriving at the gate of the headquarters of Phu My Hung (PMH) Security, the writer was struggling to find the way to enter because he could only see the barrier without any guards. Suddenly, the barrier turned on automatically, so it was remotely controlled. At the office door, the reception staff, after greeting, looked at the face recognition screen so that the office door opened automatically to let guests get in…, then all the security and reception stages were automatic.
Vehicles of the company and customers come to work regularly, the vehicle number has been entered into the database and the automatic identification software will open the barrier when the vehicle stops in front of the gate. I realized, after seven years from the last article, many improvements have been mad in Phu My Hung Security Deparment.
In addition to having installed more than 200 CCTV cameras seven years ago when I first came to write the article, now the number of cameras is at road and river gateways, on main roads, important roads and public parks has increased to 355 units, plus the number of cameras in apartments, villas, commercial centers, office buildings, etc. the total number of cameras in Phu My Hung has now reached 4,000. This network covers almost every corner of the entire more than 400 ha of Phu My Hung.
However, it is worth mentioning that in addition to the wide coverage, the intelligent level of the system is also enhanced. For example, many cameras now have the function of creating "virtual fences". At night, the control center will start scanning important roads to create an electronic fence with an alarm effect. When people or vehicles enter and exit the area, the control center will receive a warning signal, record it and notify the security force on duty in the area to notice, verify and follow until the person or vehicle gets out of the management area.
These "virtual fences" are also arranged on estuaries leading to the area to alert when boats enter the river section of Phu My Hung. Especially at high tide, when strange boats can come ashore, the control center will ask the securitys to take notice if the boats stop or come onto the shore illegally. The intrusion of criminals from the river side is also an important part of vigilance in this area.
And yet, some of these cameras also have the function of warning suspicious number plates, i.e identifying vehicles that have entered Phu My Hung and have suspicious actions. The camera after scanning the license plate of the vehicle compares it with a database of vehicles that were recorded as suspicious and alarms if the bad guy is identified.
In addition, PMH Security also boldly applies new technologies in monitoring and protecting major events taking place in the area.
Talking about Fire Prevention, an important part of security work, recently SafeOne technology developed by Viettel has been applied. This fire alarm software generates a very effective remote warning in four layers of fire protection in Phu My Hung: the first layer is the fire alarm devices on site, the second layer is the security guard at the site, the third layer is the unit that protects the whole building and the fourth layer is the SafeOne software. This software detects fire at the earliest, reports directly to the technical regulating room of PMH Security, this prevents the fire alarm equipment from malfunctioning or when the on-site security guard is absent…, then at the main regulating room, even from far away, it also receives a fire alarm and will report to the onsite unit about the incident, and at the same time send forces down to rescue.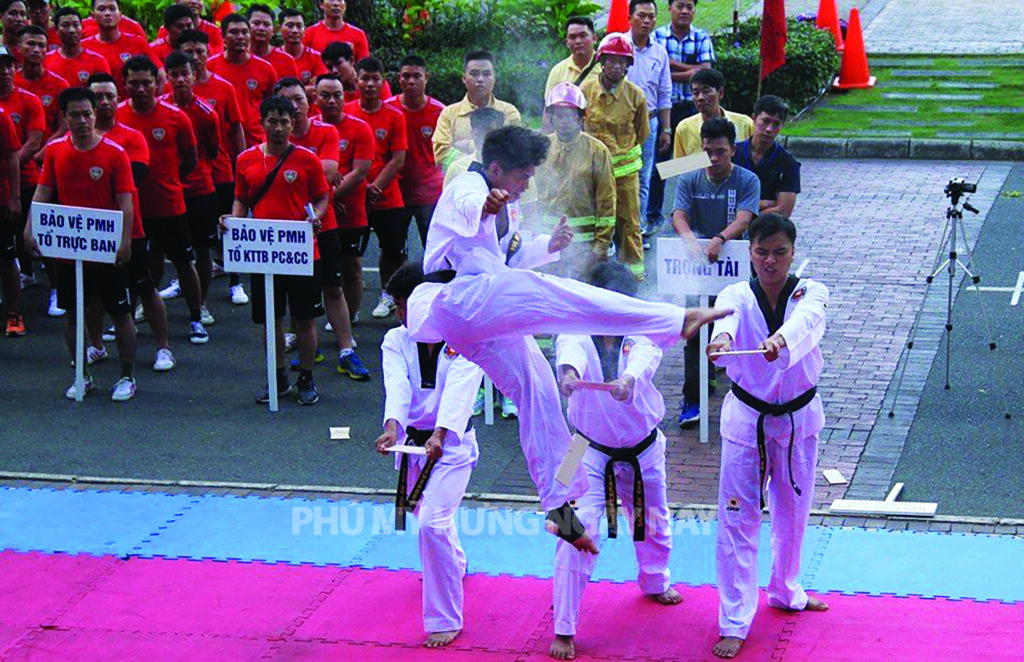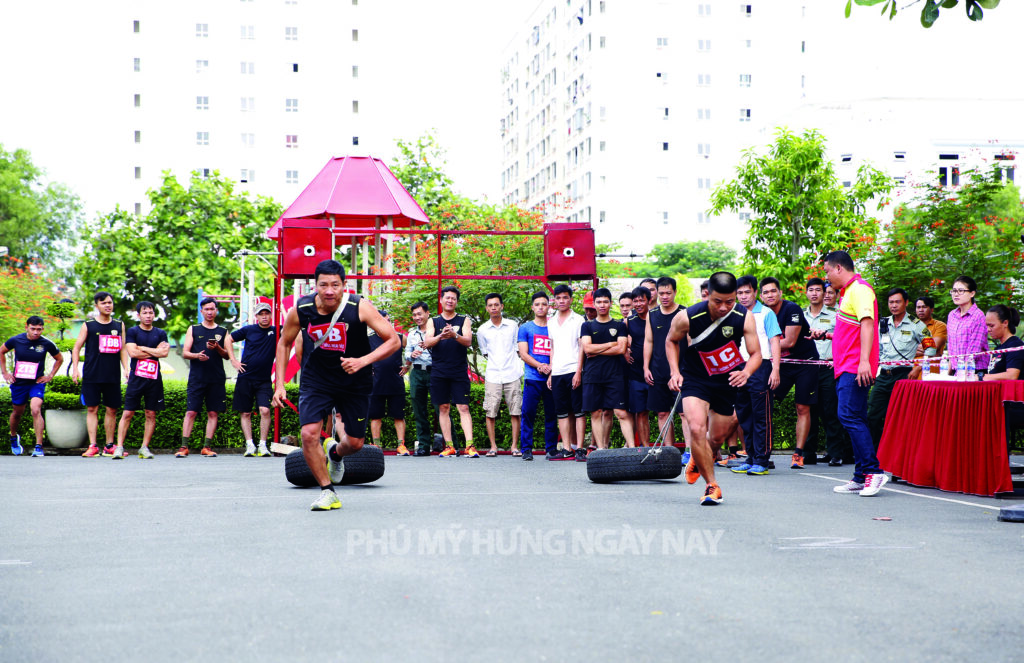 Skilled and Well-managed human resources
In addition, the need to practice and study regularly to improve working skills for the force, the security here is fully and appropriately equipped. There are two types of standard security guards of PMH Security: patrolmen and onsite security guards. We can see patrolmen (picture above) with headlight helmets both to help observe and to signal to people around to recognize in the dark. On their shoulder there is always a walkie-talkie on the same frequency as all units to coordinate information. There is a body camera in front of the chest to record events. They wear reflective vests and equipped with a traffic control whistle. The right side has a supporting device and the left side has a long- range flashlight, etc. Security guards on site are similarly equipped except for helmets.
The small thing that makes a big impression on me is the stability and continuing to improve the quality of the personnel here. Seven years ago, we introduced three generations of PMH Security including Mr. Nguyen Van Thang, 20 years of service, Mr. Nguyen Ngoc Tam, 10 years of service, Ms. Truong Thi Tam, 9 years of work. With this return, I know that Mr. Thang has completed his work well and retired, and Mr. Tam is still working. He is also an athlete who represented the company to complete the 42 km marathon. Ms. Tam is currently in charge of protecting the important The Waterfront villa area and concurrently escorting female VIPs. One of the signs of a company's success is the enhanced stability and development of its personnel. The above cases are proof of this.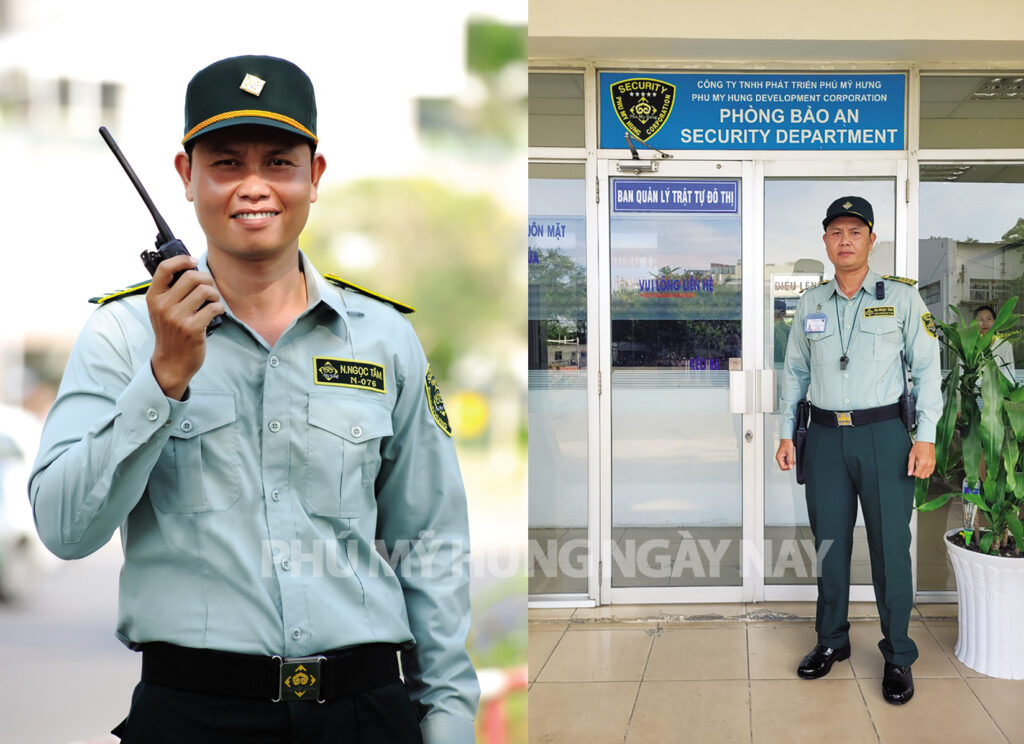 Of course, in an area of more than 400 ha checking the work of each individual with correct procedure is also very important. Here, technology is also applied.
If in the past, security guards signed their names in a book, then used a magnetic card, now QR code is used to scan the places where they must go to or must patrol at right time. In addition, the patrol cars are located by GPS to know the route they are moving on and their current position. With a loyal and long-term working force, which is well-trained and well-equipped, it can be said that PMH Security has great strength in personnel. This strength, combined with the application of new technologies, further strengthens their capacity, making their work more efficient and helping the security and order of the Phu My Hung urban area become better and better.
Coordinating with functional agencies, connecting with residents
PMH Security was formed from the early days of the construction of Phu My Hung. During 30 years of operation, the team has shown its effectiveness in protecting and understanding the area. Currently, there is always an elite force with modern equipment ready to respond to situations.
The team's on-duty framework includes: Center for Supervision – Technique: 17 staff members, Division of Fire Protection Equipment: 5 staff members, and On duty Team – Patrol – Blocking – Scouting: 150 officers and employees.
The record of crime reduction results over the years shows that:
In 2016, reducing 6 cases of all kinds (accounting for 10.5%) compared to 2015.
In 2017, reducing 13 cases of all kinds (accounting for 20.6%) compared to 2016.
In 2018, reducing 13 cases of all kinds (accounting for 20.6%) compared to 2017.
In 2019, reducing 29 cases of all kinds (accounting for 25.7%) compared to 2018.
In 2020, reducing 5 cases of all kinds (accounting for 17%) compared to 2019.
In 2021, reducing 8 cases of all kinds (accounting for 23%) compared to 2020.
In 2022, reducing 10 cases of all kinds (accounting for 24%) compared to 2021.
In addition, the team has successfully completed the work of keeping the safety of senior leaders and delegations visiting and working in Phu My Hung, successfully defended events and festival activities organized by the Company in Phu My Hung.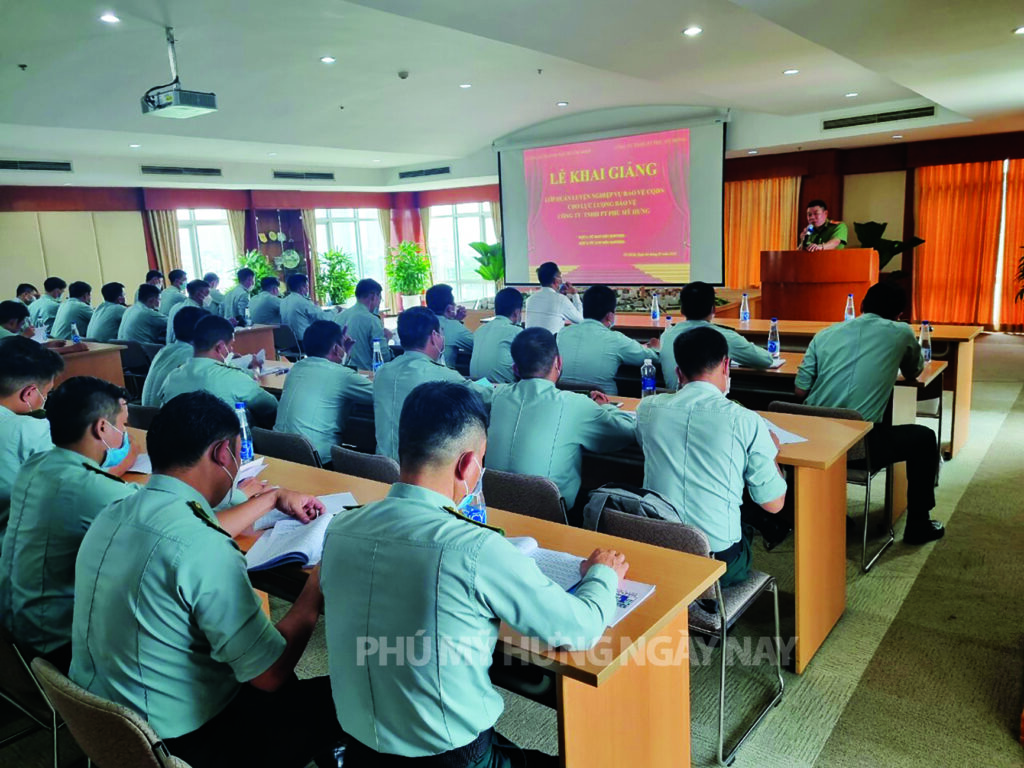 In addition, the coordination with local authorities is also very close. The security forces at the checkpoints have supported very actively, helping District Police, Criminal Squad of District Police, and Ward Police to find clues, providing camera data, and coordinating to detect and catch many criminal gangs, bringing peace to residents living in Phu My Hung area.
PMH Security always coordinates smoothly and promptly to take preventive measures in the situation of youth crime, bold and aggressive tricks, contributing to minimizing the number of incidents arising in the area within management area; completes a plan to coordinate day and night patrols with the District 7 Police and Ward Police to ensure the security of the area, contributing to curbing and reducing incidents about security and order; strengthens coordination in handling encroachment on sidewalks, street vendors, traffic safety and urban beauty.
In addition, the work of connecting to residents is also paid attention by PMH Security, such as maintaining security offices in 4 subdivisions: C&M Zone, R Zone, S Zone and H&CN Zone belonging to Site A in Phu My Hung urban area, as a place for residents to report when an incident arises and as a reception point for the regional police, in order to promptly solve arising problems, creating favorable conditions for residents when there is a need for security assistance.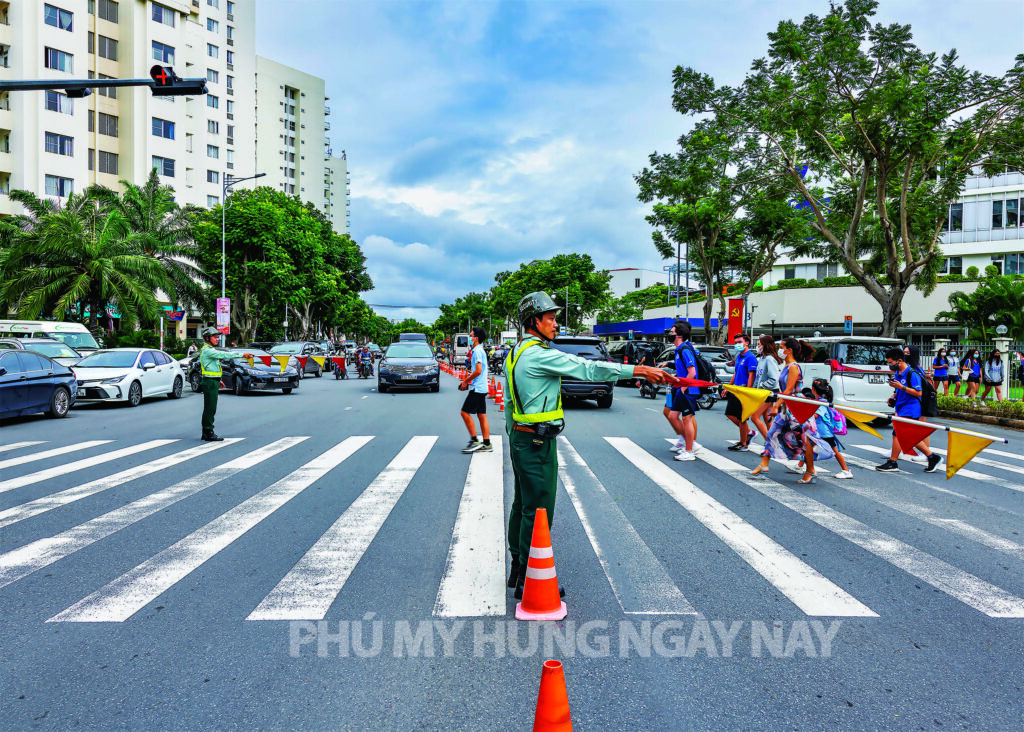 Equip and train to increase deterrence to prevent criminals from taking action
The very well-defined purpose of the PMH Security in focusing on applying technology and training staff proficient in skills and in martial arts, etc. is aimed at enhancing deterrence, making the subject afraid to commit crimes in Phu My Hung.
Therefore, continuing to improve physical strength, martial arts, strengthening resistance, upgrading technological devices to enhance the ability to display intimidation and deterrence without action, bad guys will not dare to come to the area to commit crime. PMH Security currently has 149 members with Taekwondo belts including: 12 yellow, 24 blue, 106 red and 7 black (from 1st Dan to 5th Dan).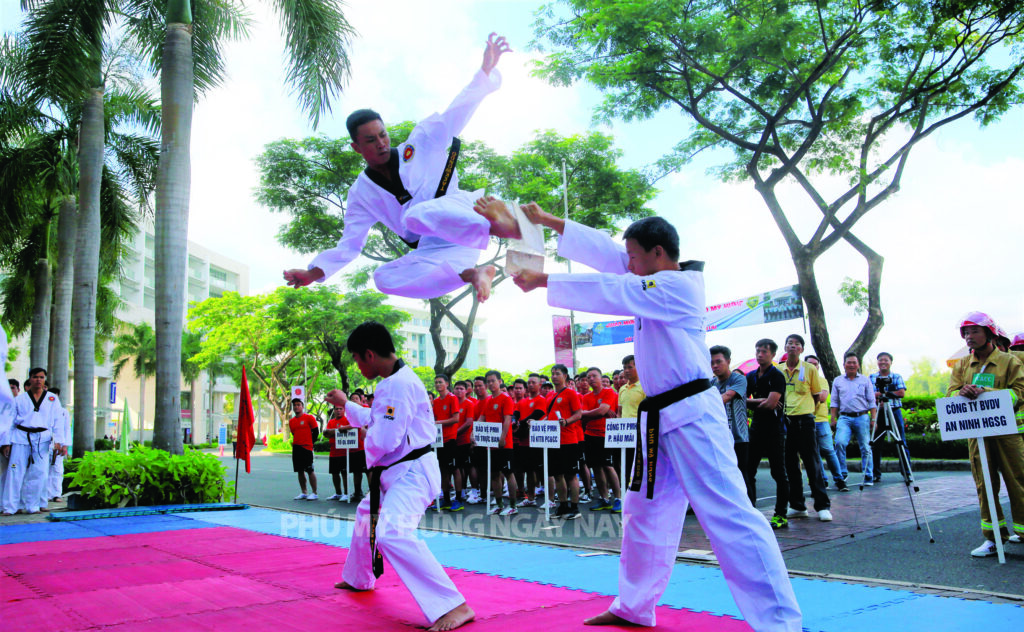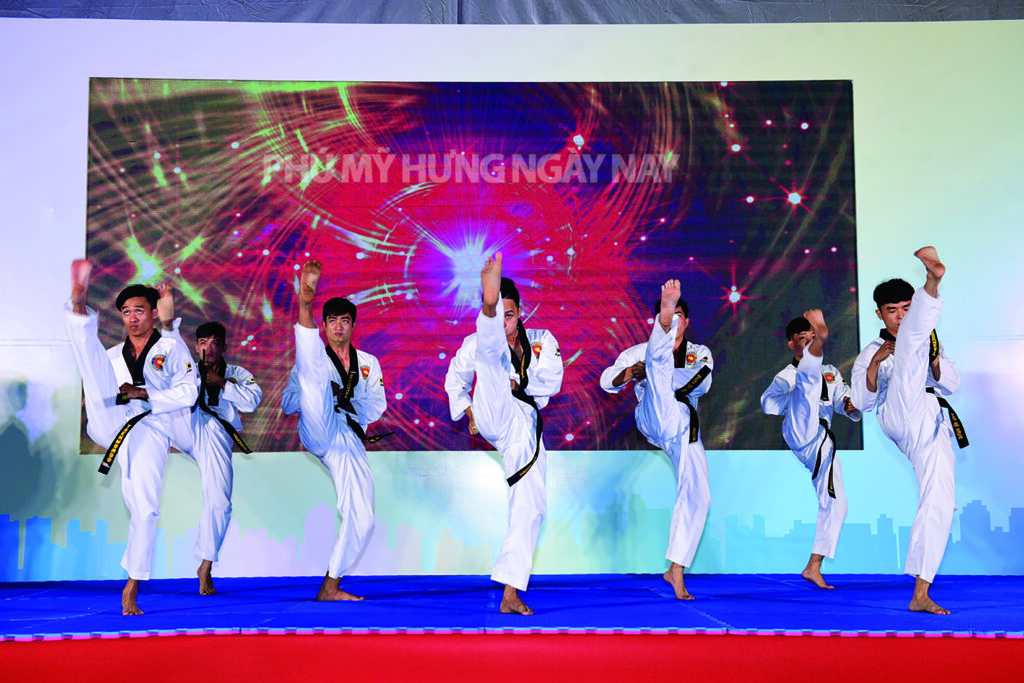 From the incidents that have arisen and been proactively detected and handled by PMH Security in a timely and effective manner, it has shown the importance of upgrading technological equipment, such as security camera systems which have brought remarkable effectiveness in the protection of security and order, contributing to reducing cases of theft and robbery.
The improvement of physical strength, martial arts, and strengthening of resistance will help the elite force to meet all the working needs of ensuring social order in PMH, helping security officers and employees have ability to judge, prevent, coordinate and effectively handle arising incidents.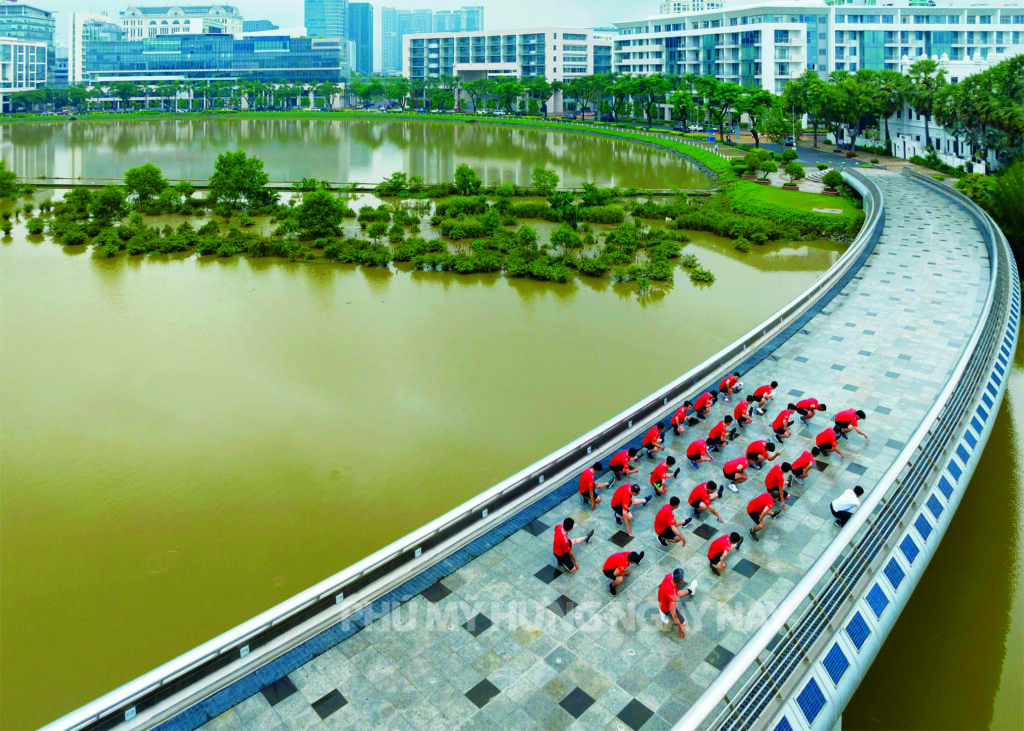 To do so, the improvement of physical strength, martial arts and upgrading of technological equipment need to be paid special attention and implemented quickly and scientifically, thereby creating a deterrent, increasing the intimidation, making the subject hesitate and above all, creating peace of mind for Phu My Hung residents when living in a modern urban area and a humane community.
Source: Phu My Hung