During this upcoming Mid-Autumn Festival, Crescent Mall is set to illuminate the season with vibrant colors and an abundance of joy. From September 1 to 30, 2023, families can look forward to a heartwarming celebration under the full moon's embrace.
Under the enchanting theme of "The Glowing Joy of Mid-Autumn", Crescent Mall invites families to immerse themselves in a mesmerizing world adorned with shimmering lanterns and adorable white rabbits. This captivating setting is the perfect backdrop for capturing cherished moments of togetherness during this Mid-Autumn Festival.
Discover the Crescent Mall Mid-Autumn Fair, where visitors can savor delectable and authentic mooncakes from renowned brands like Kim Nguyet Vien, Dai Phat, Tai Thong, Hoang Yen, and find delightful lanterns to illuminate the full moon at the Pull Gift booth.
Every weekend, Crescent Mall will host a series of engaging cultural activities, including hands-on mooncake molding and the art of crafting colorful lanterns. On the night of the Mid-Autumn Festival itself, Crescent Mall presents the "Lantern Procession – Joyous Moonlit Celebration" program, featuring captivating music performances and entertaining games for the entire family to enjoy.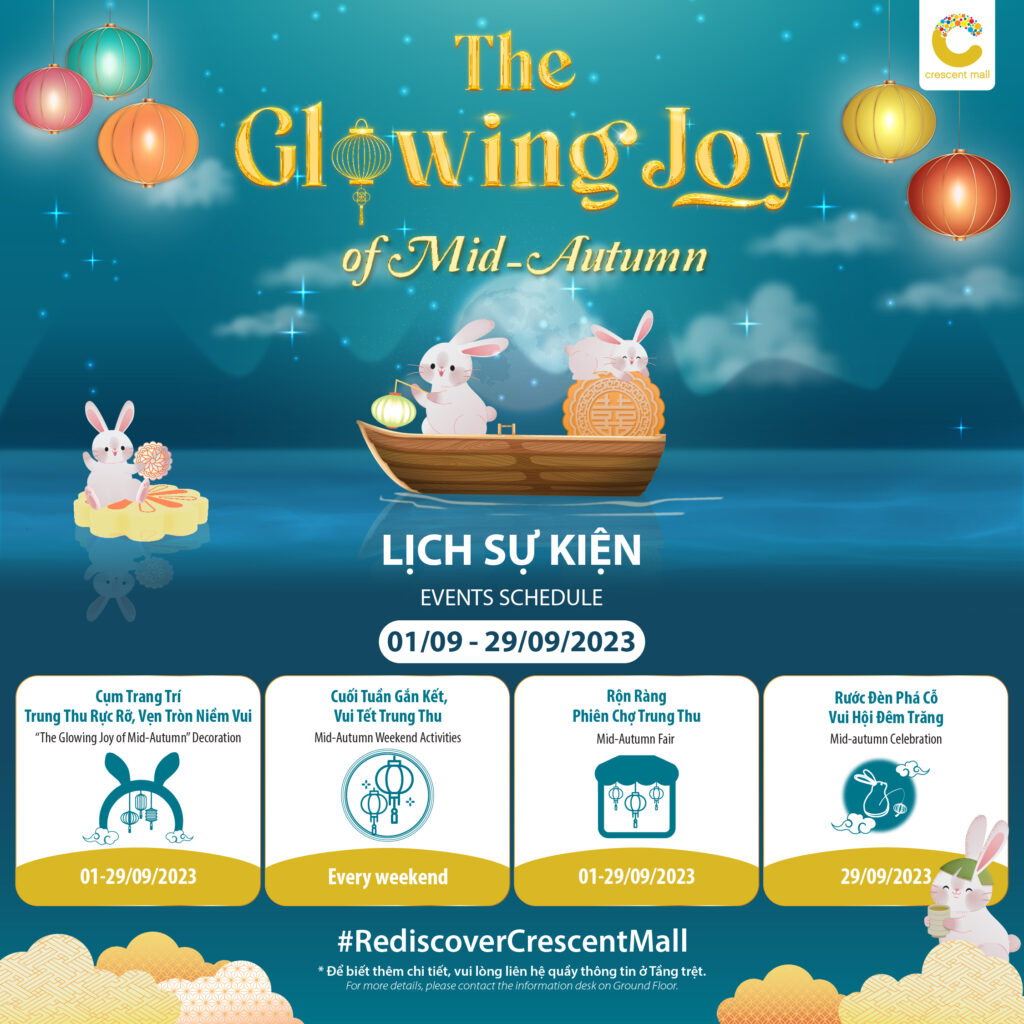 Moreover, from September 10 to 30, shoppers at Crescent Mall can look forward to receiving meaningful gifts during this lunar celebration:
• For a daily purchase totaling VND 8,000,000 or more, member customers will receive a luxurious box of premium mooncakes.
• A daily purchase totaling VND 5,000,000 or more entitles member customers to receive a charming Japanese tea set.
• Each customer may participate in this program once per day, regardless of exceeding the specified shopping thresholds.
• Invoices are valid only on the date of purchase, so make the most of your shopping experience at Crescent Mall and bask in the full moon's radiant glow.
Source: Crescent Mall