In Phu My Hung, besides shops and services to meet essential needs, a number of fresh flower shops are opened to serve the spiritual life of residents every day.
In addition to beauty decoration, fresh flowers also have a positive impact on human health and spirit. therefore, people often use flowers to decorate the corner of the house to make it more beautiful, or to adorn the street corner to be more vivid. In Phu My Hung, residents do not have to spend time searching, but can refer to some of the following fresh flower shops:
Dalat Hafarm
109 Ton Dat Tien St., Tan Phu Ward, District 7, HCMC
Phone: (028) 5413 7802
Dalat Hasfarm provides all kinds of flowers from cut flowers, potted flowers to fresh flowers imported from the Netherlands, South Africa… For cut flowers, the shop offers more than 21 types of flowers, the most popular ones include Premium roses, carnations, auspicious flowers, hydrangeas… Each type of flower will be classified by color and characteristics for customers to easily choose.
Along with cut flowers, potted flowers contribute to the difference of Dalat Hasfarm. Potted flowers will keep their freshness longer and are more diverse in style. Featured products are orchids, immortal flowers, hydrangeas, anthuriums… In addition, potted flowers such as hyacinths, dahlias, poinsettias… are also offere seasonally.
For imported flowers, the main products are Ecuadorian roses and Baby flowers. There are also flowers imported from the Netherlands such as tulips, peonies, iris…; from South Africa such as chamelaucium, protea venus… Flowers are imported every day, diverse types depending on the tastes of customers. Dalat Hasfarm provides services of designing fresh flowers into bouquets, baskets, vases… for customers to give as gifts on holidays, birthdays or special anniversaries.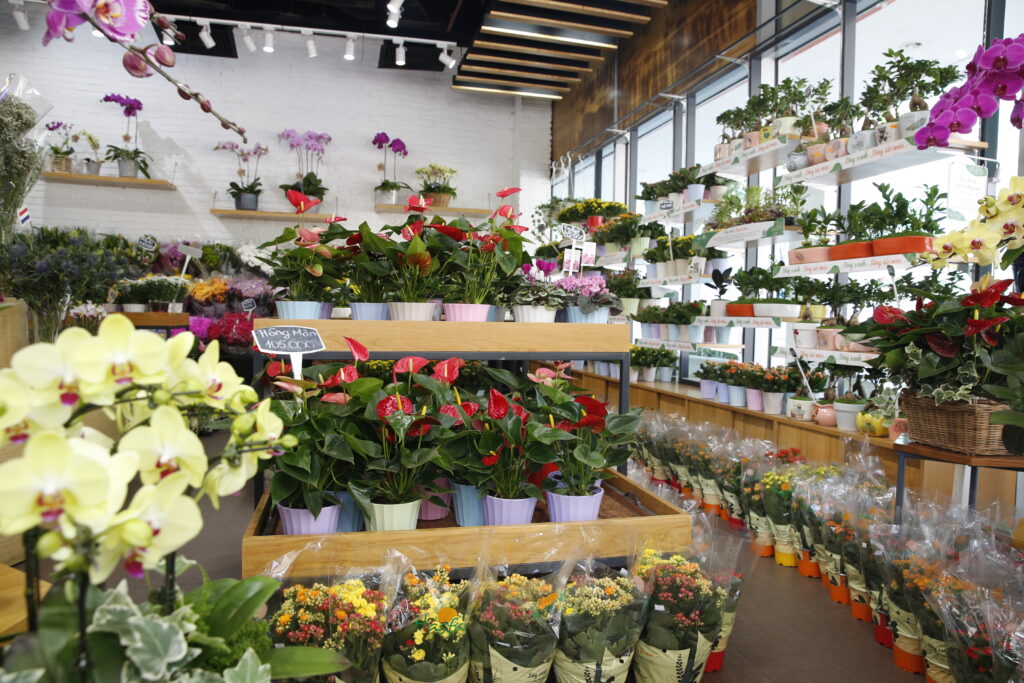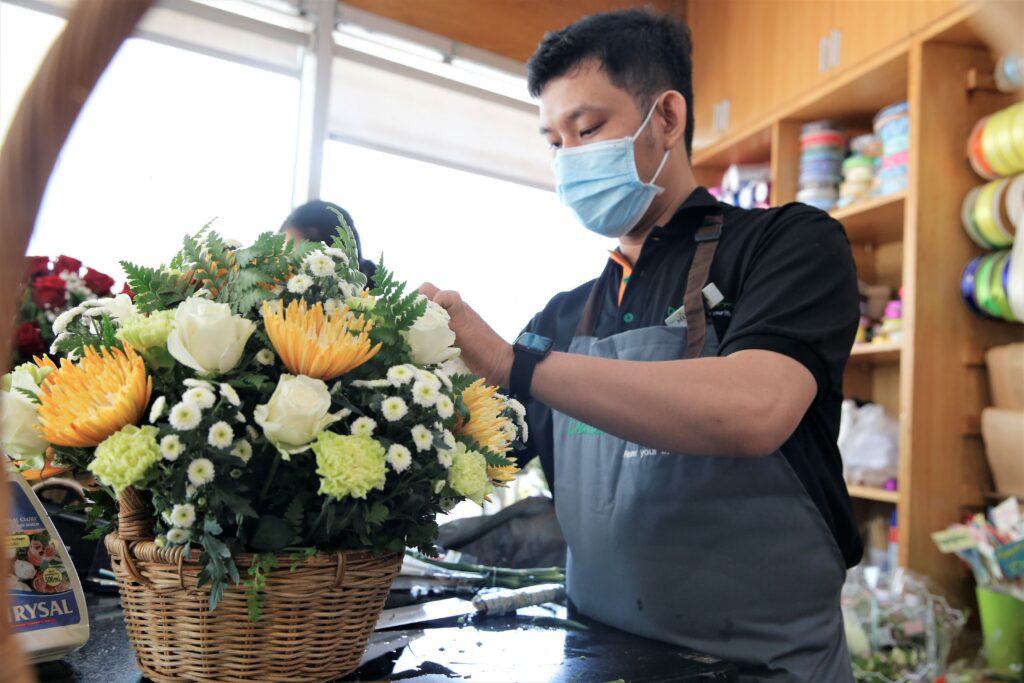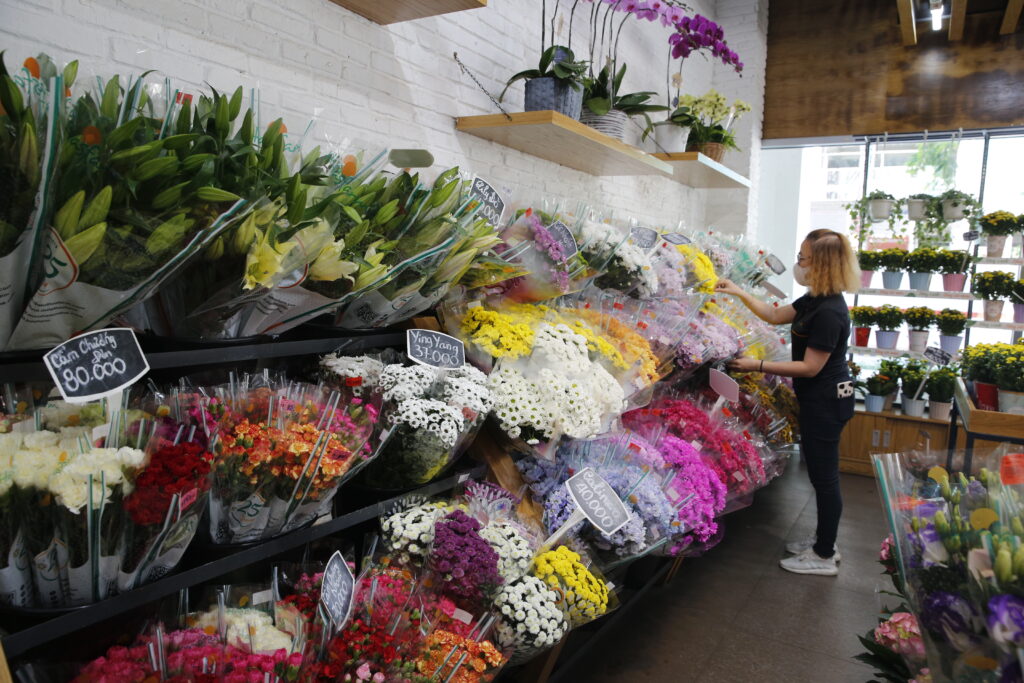 Fresh flower at Finelife Market
51A Nguyen Van Linh St., Tan Phong Ward, District 7, HCMC
Phone: 028 3622 7817
Entering the main gate of Finelife supermarket, residents will easily see fresh flowers stand together with green plants. Here, residents can combine going to the supermarket to buy essential goods and choosing fresh flowers for decoration or as gifts. Cut flowers with many types and colors to serve the needs of residents' decoration are lilies, daffodils, chrysanthemums, heather flowers, begonias… Potted flowers are also quite diverse about colors, types and have sizes suitable for decoration on desks, balconies, kitchens… Some types of flower pots have many colors such as immortal flowers, chrysanthemums, anthuriums, miniature roses…
Along with fresh flowers, green plants with many sizes and types will help residents have more choices. In addition to the decorative function, green plants placed in the home or office help filter the air effectively. For some species of plants such as sansevieria trifasciata, devils ivy, succulent lotus, schefflera arboricola… also have the effect of absorbing harmful radiation in electromagnetic waves and air.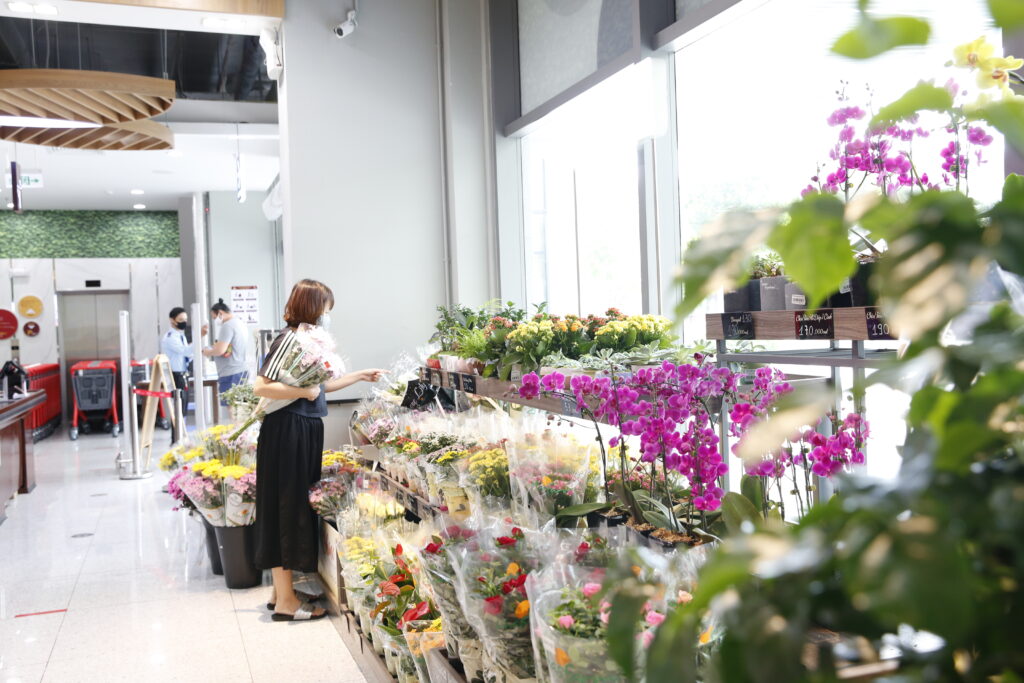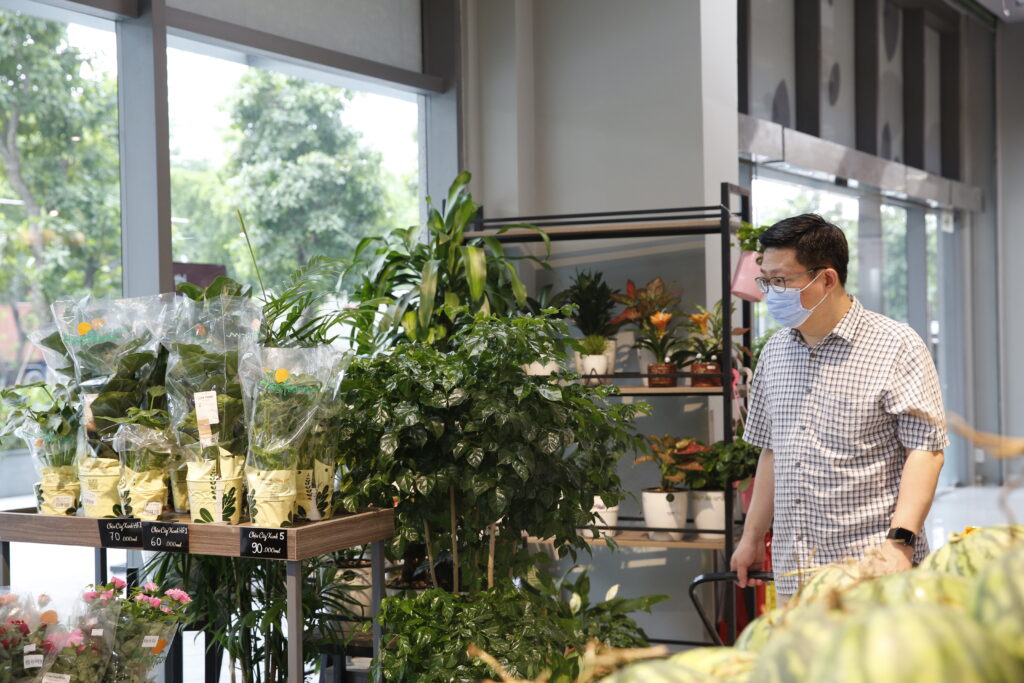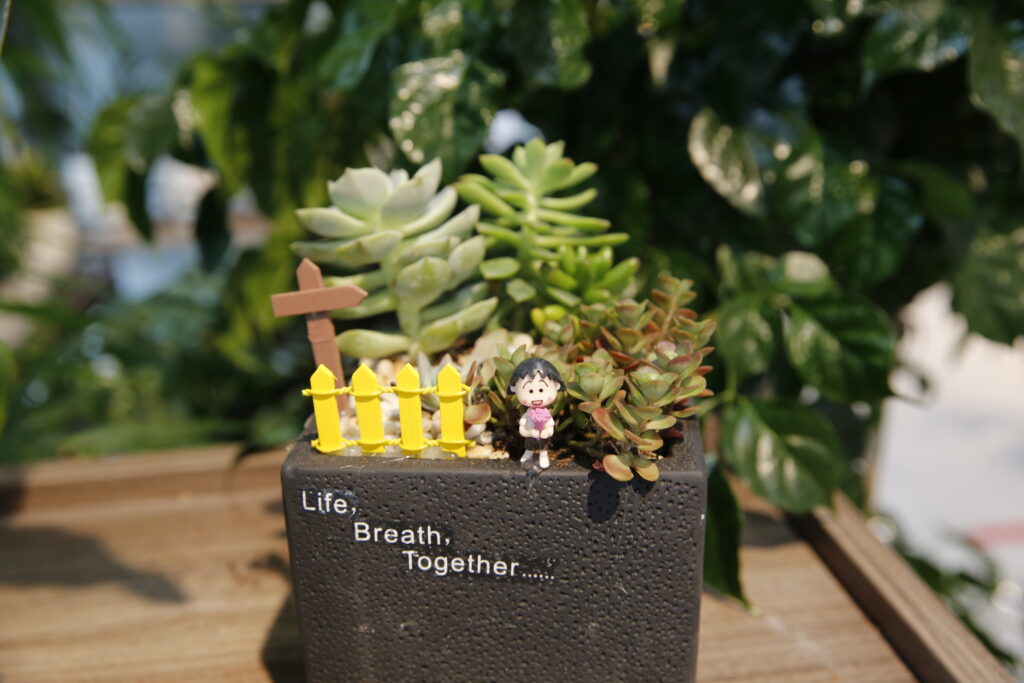 Flower Force
34 Road P, Panorama, Tan Phong Ward, District 7, HCMC
Phone: 082.979.1234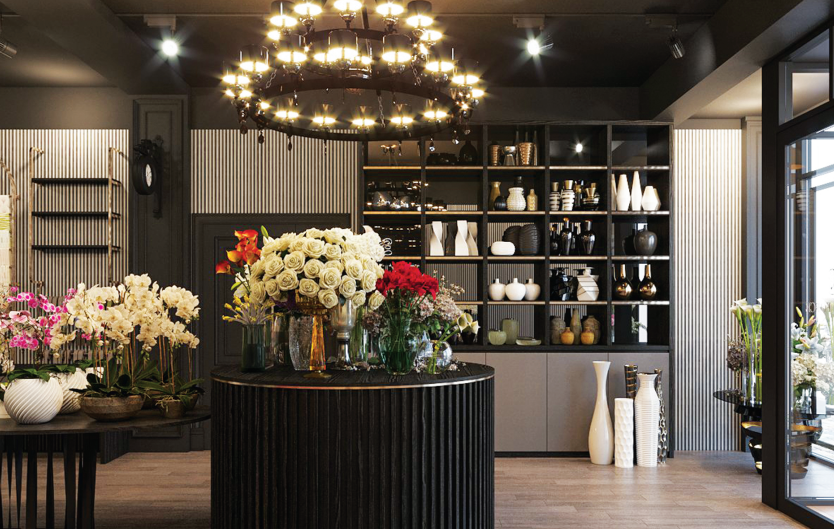 With an inviting and luxurious display, Flower Force will attract you at first glance. It's not difficult to explain because the owner of Flower Force – Mr. Luong Quoc – also the main florist, is an architect with a passion for sustainable design (Biophilic Design). In his work he always seeks to explore the harmonious combination of natural beauty and architecture, which gradually led him to his newfound passion for fresh flowers. The young architect signed up for an Industry Ready Course with Matthew Landers – a celebrated designer specializing in floral design in Australia. After a 2-years internship with Matthew, Quoc established his first florist store in Perth (Australia).
"Flower Force", the name implies "a serious obsession with flowers". For Quoc, designing a house and a flower bouquet share a few common things; a fierce passion alongside meticulous attention to details, creativity, as well as great use of colors and quality material selection. Residents nowadays, especially Residents in Phu My Hung, require not only the high standard on environment but also the aesthetics of lifestyle in their own home. That is why Flower Force chooses to open a store here, to service the residents' floral needs. With a team of floral experts and skilled staff, Flower Force can confidently provide a wide range of floral services, from stunning home décor, such as vases, potted flowers, fresh bouquets, to customized designs for weddings, events or home decorations. Flower Force also offers private and public floristry training courses. On celebration of the Opening event, Flower Force will discount 5% of bills for all PMH residents.
In addition to Dalat Hasfarm, Finelife and Flower Force, residents can find other fresh flower shops in Phu My Hung, such as:
LES ABEILLES FLOWER BOUTIQUE
22 Road C, Tan Phu Ward, District 7, HCMC
Phone: 0989 030 282
SKY FLOWER
90 Le Van Thiem St., Tan Phong Ward, District 7, HCMC
Phone: 0352 709 173
FRESH FLOWER AT CO.OPXTRA PREMIUM
Floor B1 Crescent Mall, 101 Ton Dat Tien, Tan Phu Ward,
District 7, HCMC
Phone: (028) 5412 1416