Mr. Nguyen Tuan Khiem is a resident of Phu My Hung, the owner of wineshop.vn wine cellar on C road, Canh Vien 2, and also a member of mountain biking, so he not only loves the intense red yeast of the wine, but he is also passionate about adventurous trips to the mountains and forests by "trails without trails" like "off-road" of mountain biking.
But Mr. Khiem admits that both doing business and satisfying his passion for biking is partly because he lives in Phu My Hung. "This is the best urban area in the country. I have traveled a lot so I know. The clean environment, perfect training conditions, safety, etc… All help me sublimate at work as well as train to be strong enough to meet the challenge of this adventurous biking", Mr. Khiem said.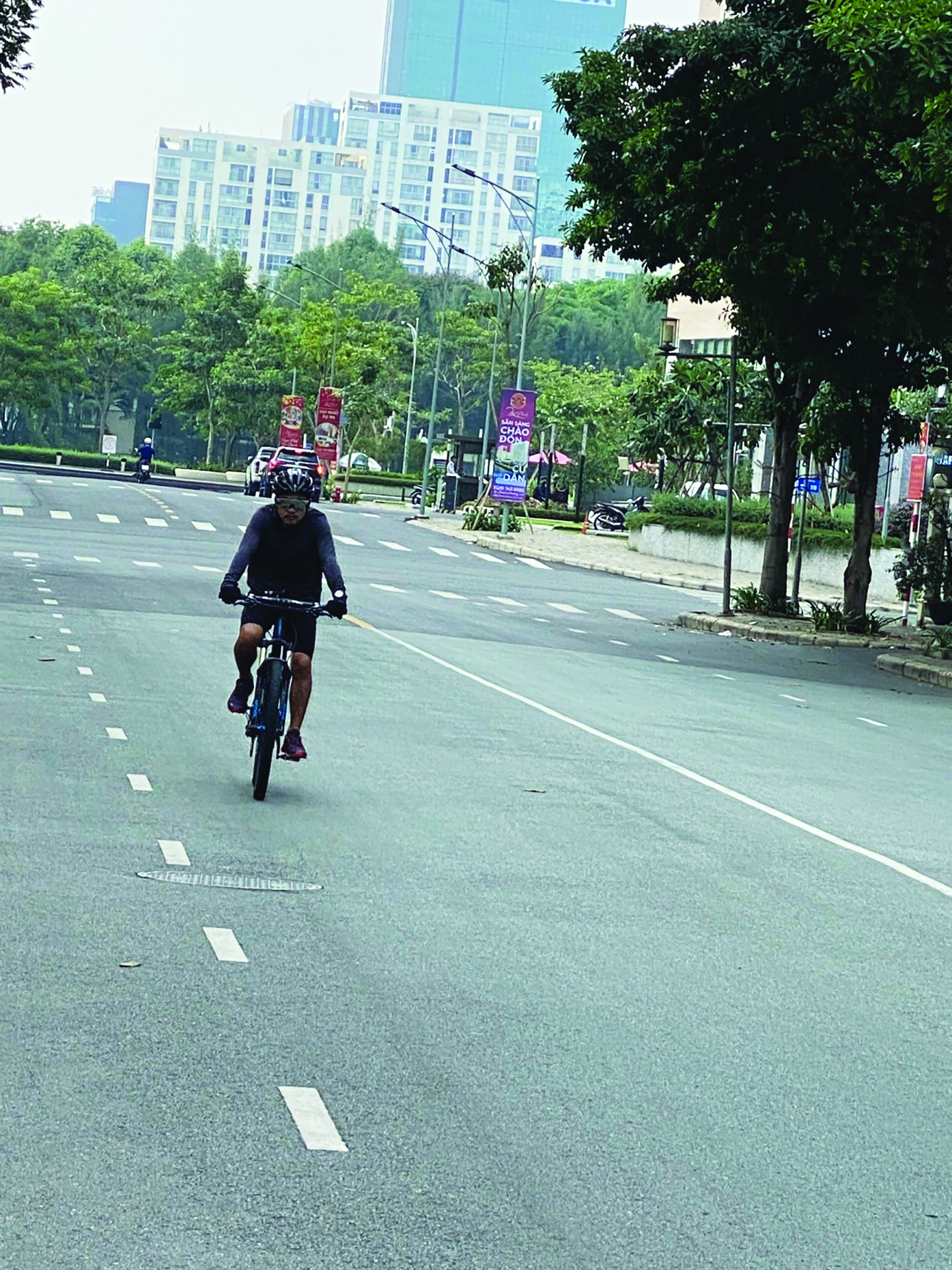 After passionately talking about the urban area, houses, shops, environment and convenient training conditions around, we asked him to explain his passion for mountain bikes, Mr. Khiem immediately enthusiastically explained: Mountain biking is a sport full of adventure, so bikers need to practice a lot to have enough physical strength and technique. It has five main branches: Cross-country, Trail ride, All mountain (also known as Enduro), Down hill and Free ride. Cross-country (also abbreviated as XC) is a branch of mountain biking. XC was selected as an official sport atthe 1996 Olympic Games, itis the only mountain bike race at the Olympics to this day. Terrain is one of the key factors that define a standard XC track. XC track is made up of a mixture of trails that cross open fields, woods, roads and even some combined asphalt or concrete sections.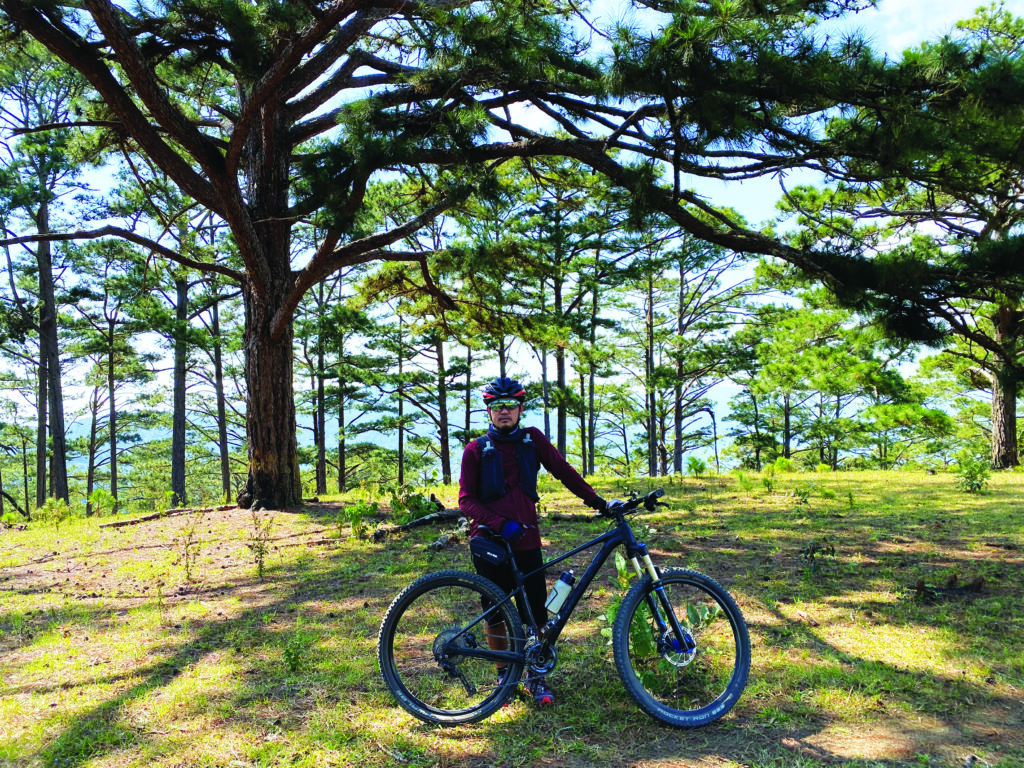 Until recently, Cross-country (XC) is still implicitly considered "easy to play" or "for beginners", because the characteristics of this type of competition focus on physical strength rather than technique. Trail ride is mountain biking on real hilly terrain. This is not a race but for those who are passionate about exploring, conquering the terrain, crossing the forest, overcoming waterfalls, experiencing the feeling of this genre. The forests and streams in Dong Nai (Ma Da, Hieu Liem…), Tay Ninh (Lo Go, Xa Mat), Hanoi (Soc Son), etc. are often chosen by mountain bikers. All Mountain – Enduro, is a type of mountain biking to "play" with complex, constantly changing mountainous terrains. Players have to both climb uphill and downhill. Even players sometimes have to fly, jump over large holes, creeks. Therefore, equipment for this type of biking must be bikes with stronger and heavier frame systems than Trail bikes. The bike also has two shock absorbers front and rear. The front shock absorber has a stroke (140 – 160mm) to be able to withstand the impact of flying jumps. The rear shock absorber has the same effect as the Trail bike.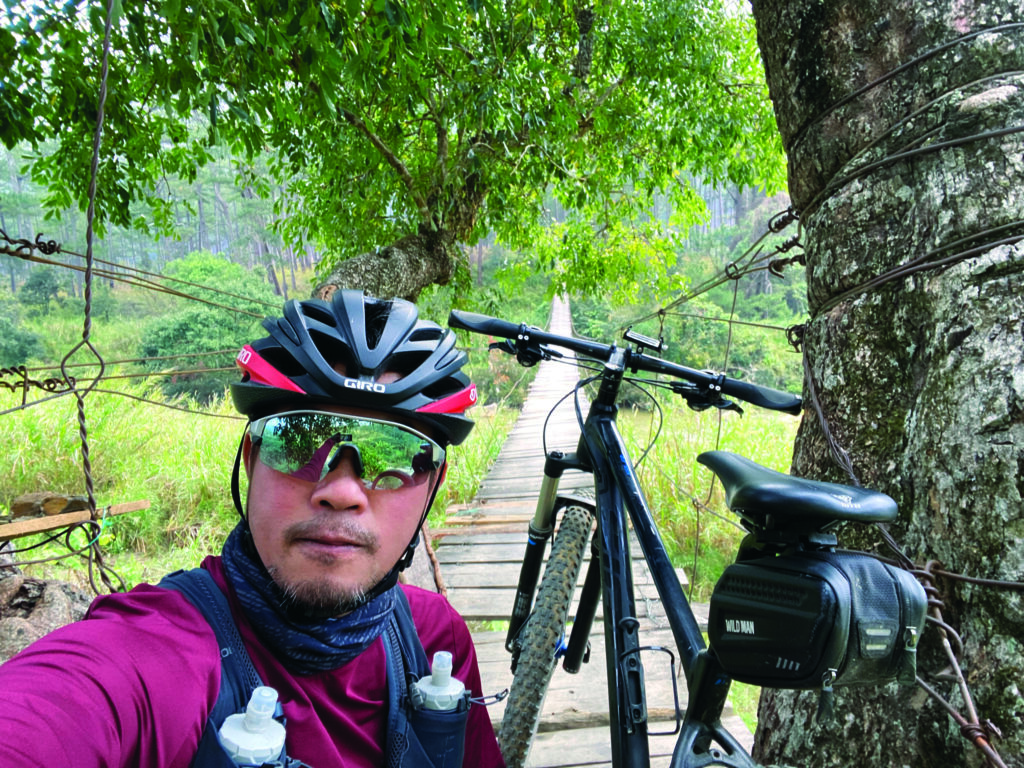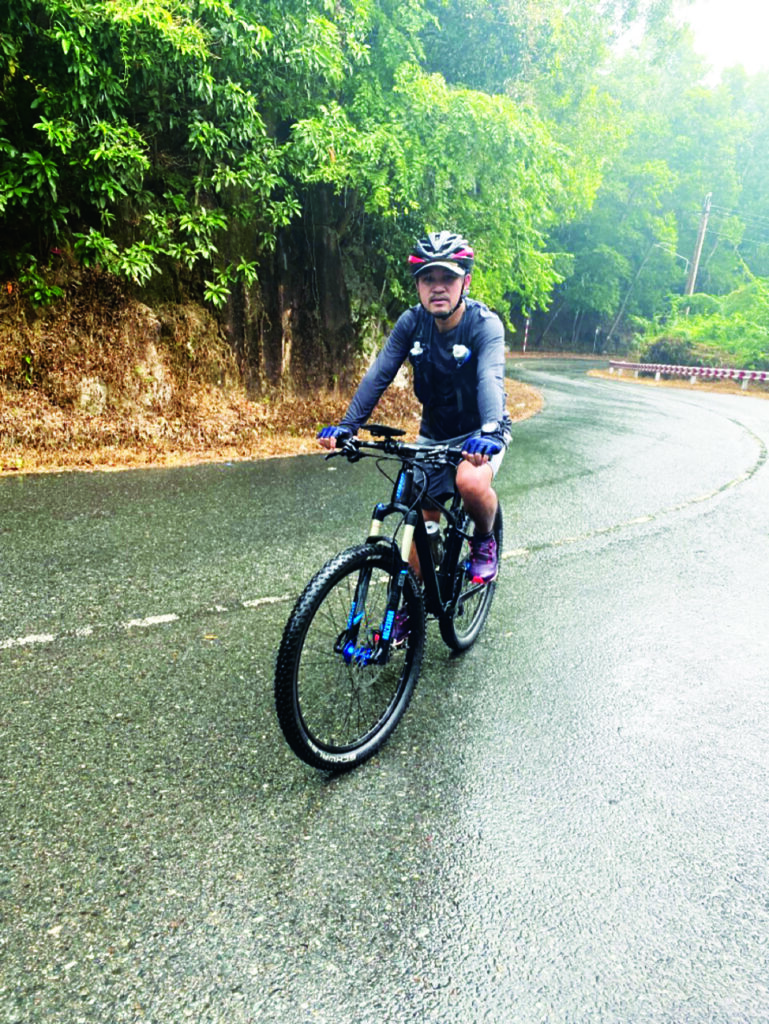 Down hill is a type of downhill biking. The slopes that Down hill bikes can overcome are often long and steep, with or without obstacles. To cope with this harsh route, the frame is quite heavy, capable ofwithstanding strong impact forces due to having to go down long slopes at high speed. The bike is also equipped with two shock absorbers front and rear. The front shock absorber is a 2-stage type with a fairly long stroke (170 – 254 mm) so as to be able to reduce very strong shocks. The rear shock absorber is similar to the bikes above. The saddle is designed to be tilted up so thatthe rider's center of gravity can be pushed back to avoid falling forward when going downhill. Free ride, is downhill biking while performing acro- batic techniques. The frame of the Free ride bike is lighter than that of Down hill bikes but still ensures firmness. The bike has two shock absorbers in which the front shock absorber is a single-stage type with a stroke of about (170 – 180mm) to withstand the impact force when landing after somersaults.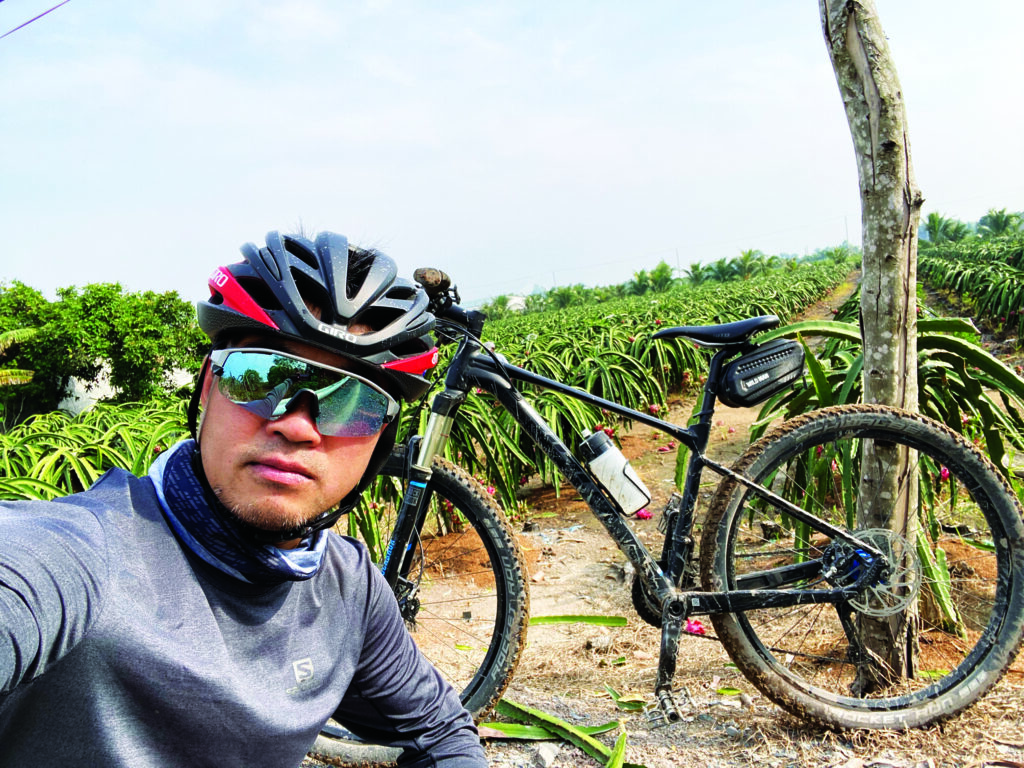 After explaining about mountain biking, Mr. Khiem passionately told about the running routes he had experienced in Nam Cat Tien, Da Lat – Bidoup – Tiger Cave Waterfall, Ma Da, Madagui, etc… He said, each land has a different topography and creates different interesting feelings, such as: Go Cong trail passes through many rice fields, rivers and boats, with less slope, less difficulty. In Dinh Mountain, Ba Ria – Vung Tau, the trail is mainly steep, while in Da Lat, Bidoup it is the most difficult because there are many sections that cannot be pedaled due to the steep pass and higher danger…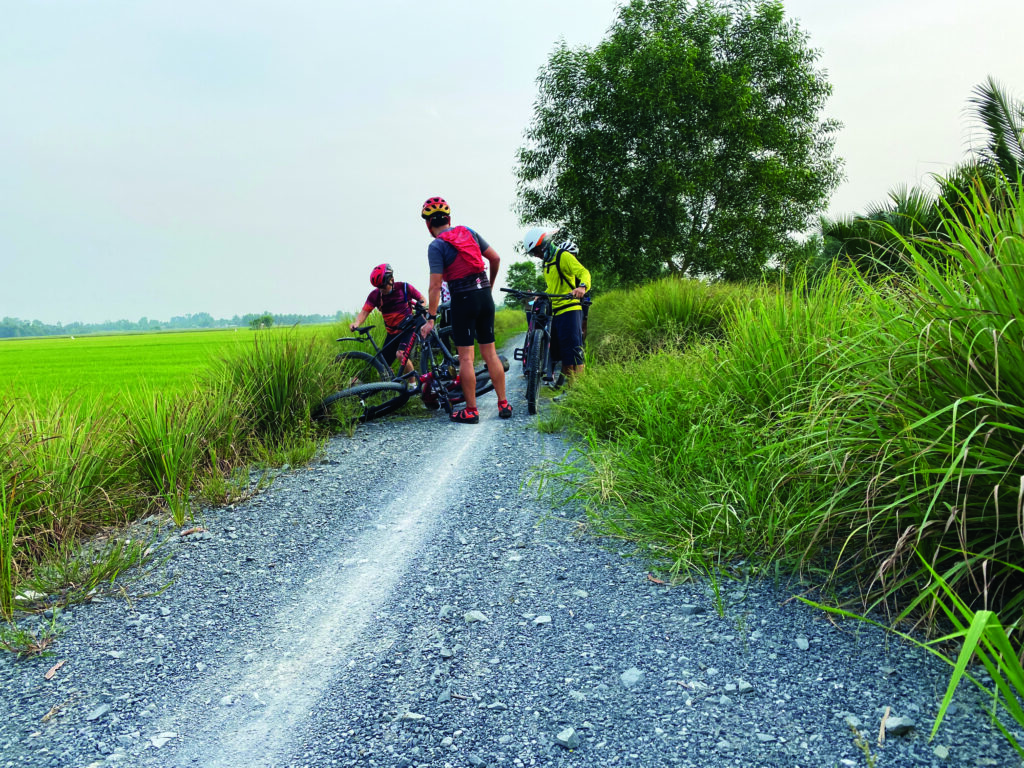 About equipment to play Mountain Biking, Mr. Khiem said it was quite simple, not too expensive like other biking, mainly survival equipment when going into the mountains. For the Mountain Bike used for Enduro, 2 shock absorbers are required to help go downhill through difficult routes, costing about 100 million VND, while the hardtail XC cross-country bike for off-road riding costs only about 50 million VND. It is worth noting that to play this sport often takes time because it often goes deep into new lands, mountains, forests, etc.Atrip requires atleasttwo days, so arranging time to practice and participate is not a small problem, especially for busy people.